Find Me in the Stars
April 17, 2018
He was almost to the kitchen when a sudden gust of wind hit the house, causing parts of the roof to concave. A loud thump echoed through the remains of the house, provoking the daughter to neglect her father's instructions. She ran in the direction her father had walked, dogging rubble and raindrops as she went. It took her awhile to reach her father due to the amount of rubble she had to climb over. He had given up on trying to free himself as he saw his daughter approaching. She silently sank to her knees as she studied the beam that was holding her father captive. Perhaps if she was able to free so much as one arm, her father would have enough strength to help her move the beam…
"Liv?" Her father's voice snapped her out of her trance.
Olivia looked up just as another gust of wind hit the house. Tears streamed down her father's face as he watched his daughter stare at the beam. He longed to be able to comfort her. Olivia saw her father's tears and shifted her body so that she was laying down facing him.
He looked at the sky and then back at his daughter, "Can you see the stars?"
Olivia turned her head towards the sky and tried to make out the stars through the raindrops. She nodded as she began to notice specks of light.
"When you were little, about five years ago, I brought you to work with me. All you kept asking was to do was go on the observation deck and look at the stars. Your infatuation with stars led me to abandon the original purpose of our visit. Originally, I was supposed to show you the lab, but all you wanted to do was see the stars. We spent five hours up there. I will never forget the moment the roof slid open and you first saw them. Your eyes shone brighter than any of the stars we saw that night." He watched her face as he was speaking. She had been looking at the stars wearing a sad smile. "Olivia," she turned her head towards him as he spoke. "I know it may seem like your life is over, but I promise you it isn't." His eyes began to close as the pain was starting to become intolerable.
"Dad," Olivia spoke in a whisper, afraid to raise her voice. She moved closer to her father and wrapped an arm around his torso. His heart was beating abnormally slow. Olivia knew it was just a matter of time before it would become impossible for her father to follow her instructions. Nevertheless, she gave them anyway, "Keep your eyes open."
"Liv, I don't what is going to happen. Authorities could be on their way or you could be stranded here for a long time. I know it is too late for me, but it isn't for you. You can still find those stars, Livvy. Whenever you feel hopeless or discouraged, look up at the stars. Remember what it felt like when the observatory roof slid open. Remember how it felt to dream." Those were the last words he said to his daughter. Olivia spent the rest of that night sitting among the rubble crying.
Days passed before Olivia was found late one night. The wind had died down and the rain had let up. Fortunately, a group of men had found her and given her water and a granola bar. She was too weak to walk on her own, therefore, one of the men carried her out to a car. As he was walking, Olivia looked up at the stars. She could have sworn one was shining brighter than all the others.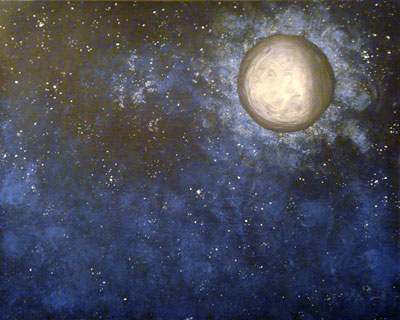 © Allison H., Vancouver, WA