Heart in a Cardboard Box
February 17, 2018
My parents found my heart in an old cardboard box in the attic of my childhood home with a note written in my hand on the lid, reading 'For a rainy day'.
I wonder what it had been like for them to find it there after all these years, after they had buried me without so much as a tear as they had taken turns shoving dirt onto my face. It must have been like excavating an ancient cathedral where I had gone to worship day and night. But that cathedral all lies in ruin, and there is nothing to resurrect—just an empty box with a memory of a girl that might have been, if only they had just wondered enough to look under the lid.
I remember vividly that day when I had given up my heart. Everyone thought I had lost it, but my heart had been there the whole time carefully boxed away in the attic of that decrepit house where the ghost of me still stains the cracks in the wallpaper that stings like the splinters in the rotting floorboards.
Maybe if they had found my heart sooner they might have thought of a better solution. Maybe my parents would have tried to save me instead of condemning me to a lifeless death and a cold, cold grave.
But they didn't find it in time, and now they don't know what to do with my heart—a shriveled shell of a carcass.
'For a rainy day' but no matter how much it rains on my grave, I will not live again. There had been plenty of rainy days when I had been alive, but no one had ever cared to look through the storm and see that little trickle of sunlight seeping in.
But now there is just a box left. A box with a worthless heart inside. And a body of a dead daughter buried in the backyard.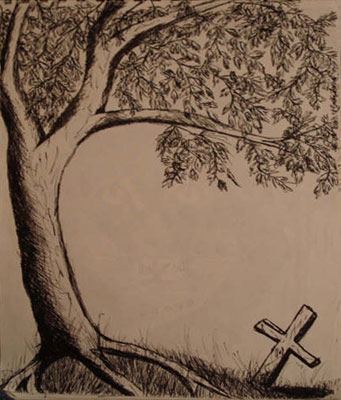 © Courtney K., Bethel Park, PA