Prudence- Age 13
January 28, 2018
"This is it, we're here!" The house was gray, with a molding green roof. The driveway was cracked, with cheap tar smeared across its surface. There was a deflated soccer ball in the big oak tree. The next house was barely two feet away from ours, too. Not enough space to have privacy.
     My twin sister Ellie was excited. She jumped out of the mini van without a second thought. "This is awesome!" She was bossy, and had the potential of fire as red as her hair. My little brother Isaac crawled out next, grinning with enthusiasm. "Wow," he breathed, a seven-year-old gappy grin on his face. My parents got out next wrapping their arms around each other.
     They were completely ready for this to be their new home sweet home.
     I refused unbuckle my seatbelt.
     "Come on, sweetheart, check it out!" Dad called. I did not want to. I knew what Ellie faced, immediate attention, resulting in hilarious and loyal friends. I knew what Isaac faced, a mob of sporto second graders in need of a sock hockey goalie. I knew what I faced, loneliness and terrible nicknames.
     My parents always tell Ellie and me that they picked our names for reasons, and good ones. Ellie, or Elliana, was named because my mom is a survivor of breast cancer, and since then my parents have looked to God for everything. Elliana means "saved by my God." Elliana is such a pretty name.
     My name is Prudence.
     My parents say that Prudence was named after an old friend of theirs. I think what they meant by that was old. As in granny. I hate my name and everything about it. I hate the mean kids who make old lady jokes to my face or the sympathetic people who try to come up with nicknames for me. I hate Pru. I hate Prudy. I hate P. I hate Prude. I loathe Pruney. The only people who really got me were the kids on my swim team back in Algona. To them, I was Flip. The name spread through my school, and soon, everyone called me Flip (except Ellie, who had called me Bubbles since I was six). Forget Prudence. When my dad lost his job, we moved from our house, our friends, our life. And the wrath of Prudence had returned. The swim team I was on was forty-seven miles from school, and I didn't know anyone. I couldn't stand it, and my parents couldn't stand how miserable I was. That was seven months ago.
     We're at a new house again.
     I reluctantly unbuckle my seatbelt, slinging my duffle over my shoulder.
It took two days to move everything into my bright green room. I felt the jolly old luck of the Irish pulse through my veins, even though we were Welsh and proud of it. The walls, though jovial in color, were utterly blank and boring. Sighing, I hung up my autographed Speedy Cortez picture: my proudest, most important possession. Speedy Cortez is one of the fastest, most famous American swimmers ever, known for her lightning fast flip turns and unbeatable 500 fly. In my last year in Algona, I beat the team's record for 200 fly and went to Nationals, where Speedy Cortez was spectating. I won again, feeling my pride coursing through my veins. Cortez sent that in the mail later.
     "If you're never going to try, you can't expect to succeed, as failure is not made of the mistakes you make, but the mistakes you never made to reach your goal." My favorite Cortez quote. It was like she was always with me. Like the motivational sister I never had. Speaking of which-
     "Hey Bubbles, can I use your charger?" Ellie blurted, throwing open the door to my bedroom.
     "Where's yours?"
     "Lost it. Where's yours?"
     "Charging my phone." Ellie flopped down on my bed and scooped up my smartphone.
     "You're at seventeen percent. You're fine."
     "Hey! Give that back!" I try to snatch back the whipping white cord, but Ellie holds it over her head, running out of the room. I roll my eyes and slam the door.
     "GIRLS. BEHAVE!" Dad shouts from downstairs. "TEN MINUTES!"
     Oh yeah.
     Today's the first day at our new school. I throw my jet black hair into a braided bun, my "default setting," and added a touch of mascara to make my blue eyes pop. Like Ellie and my mom, my face was dotted with freckles, while Isaac was free of the burden, like Dad. Our new school had uniforms. Blue polo shirts and dark cardigans, and grey skirts for girls, and pants for boys. A blue and yellow tie was too much, but required. I couldn't possibly look any uglier than the monster that stared back at me from the mirror. I'd never been to a private school, but my parents thought it would be best. While I didn't mind the new dress code, Ellie had been moaning for weeks about it. She lived in Letterman T-shirts and sweatpants. But Ellie looked gorgeous in anything. I put my phone in the charging case Mom had gotten me for Christmas, with hopes that it would spare my rapidly dying phone battery. After carelessly throwing my books in my bag, I pack my swim bag with great care. After school, Ellie would be trying out for lacrosse, and I for the new swim team, the Reformation Raptors. I hope for success more than anything. I've been so slow lately. I gained .64 seconds on my 50 free. After grabbing the lunch that Mom had set out for me, I was ready to go face the music.
Isaac, Ellie, and I had just been booted out of the car, facing the big, brown building that was school. A bubbly student worker was waiting for us.
     "HelloI'mNaomiwelcometoReformationhomeoftheRaptorsI'llbeyourguidefollowme!" We stared at her blankly. "Sorry. Just got a little excited. I'm here for you two," she said, slower, but not normal paced, gesturing to Ellie and I. "Julio will be here for you later, Isaac. He's in your section. We left Isaac sputtering at us. Naomi had long blonde hair and bewitching grey eyes. So, who's El and who's Pru?"
     "I'm Ellie. That's Bubbles." Ellie said, taking a sarcastic bow.
     "Prudence." I quietly corrected.
     Naomi narrowed her eyebrows. "Why'd she call you Bubbles?"
     "She goes into the water and makes bubbles." Naomi's face twisted in disgust when Ellie realized her mistake. "No no no, not like that!" she said, laughing. "She's a swimmer."
     Naomi's brows raised. "Oh, a swimmer?"
     "Yes," I said, blushing.
     "Same, sista! You trying out!"
     "Yeah," I answered through nervous laughter.
     "Good luck! Anyways," She smoothed her hair. "Welcome to Reformation! We believe that learning is a purpose of God, and that community is family. My purpose is to make you feel very welcome." We picked up our schedules from the Guidance Office, and I found that-
     "BAND!" Ellie shouted. "WHY DOES IT SAY BAND ON MY SCHEDULE?"
     I looked at mine. "Ugh. Gym." Like the fat, lazy person I am, I hate gym. Ellie and my schedules were exactly identical. A Mom-protection thing, but had she ever gone this far? No. She must think I'm a baby. I am a baby. Whatever. I heard Ellie curse for the rest of the tour. We passed all the classes on our schedules and Naomi gave us the rundown of all of the help offices.
     "Any questions?" Naomi asked. When we didn't answer, Naomi told us we'd have four minutes of passing time before we were tardy. After four tardies, we'd be delivered to the assistant principal's office with a referral. I wondered how many Isaac would get. After a snappy goodbye, Naomi disappeared and Ellie and I went to our first ever class at Reformation.
I learned that Latin was not a dead language.
     At least, Mr. Crook didn't think so. I knew Pig Latin; it was my secret language with my old friends in my Flip days. But this was different. Really different. At lunch, Ellie had made a speech about why Latin was useless and pathetic. Two minutes later, out of fits of applause, two girls came over and asked if she wanted to sit my them, leaving me alone, until Naomi came and rescued me.
     "How much swimming have you done?" she asked, twirling noodles around her fork.
     "Most of my life. I've been on two state teams, and I was invited to be on a national team."
     "Seriously? You turned that down?"
     "I had to. My dad's job changed."
     "I have an inkling that you might make the team." And yet, as three unbearable hours passed, the only thing that changed was the ferocity of my knocking knees. Finally, it was time. I threw my books into a bag walked briskly to the locker room. My swimsuit felt good. Very good. I was ready. Three girls and two boys, including a beaming Naomi, sat on the bleachers, each with a clipboard.
     "Now," a boy with a cracking voice said, "we're going to ask you to perform various strokes for various lengths. We'll start with a 50 freestyle, nice and easy. An orange digital scoreboard awakened. I took my mark, dived, and kicked ferociously. Yes, I thought, finishing. I'd lost .59 seconds. Then, 50 back, at 31.2 seconds, later, 50 breast, 39.6, and, finally, 50 fly. 20.7. A brand new record. I was elated, pulsing with an energy I had not felt in a long time, as the student judges applauded.
     "Well," a girl with wet brown hair said, "I guess we can say we'll see you at practice tomorrow!"
     I left as giddy as Naomi.
Though swimming was always a highlight, months of torture followed. I heard people saying my name in the hallway. Other students came and asked if I wanted to do something with me after school, probably because I had no friends. Ellie, who had made the lacrosse team, probably told them to.
     You see that ugly girl over there? She's my sister, and she's really not on the inside. You should go be her friend. She really lacks though. Latin was a torture chamber. I honestly didn't really care about Latin, and I couldn't speak it at all.
     At lunch, I never sat by the swim team. I sat by myself. Sometimes, Naomi, the voice-cracky boy Ollie, or the brown haired girl Cady came to sit by me. Sometimes, they all did. But no one else. Not even Ellie. At home, Isaac was grounded. He had already gotten two referrals. But he was a hero on the ice, and on the basketball court, and on multiple fields. Much to his teachers' and my parents' bitter disappointment. Speaking of bitter, at the time, I was very much still. I didn't like people. In Character Ed, we talked about introverts or extroverts, for which I thought about boxes. Ellie would go in the extrovert box. Naomi and Cady would too. Ollie would be in the introvert box with me and Emmy, a girl from Ellie's soccer team. Lia, Meg and Nattie, who had come to try to talk to me several times, would be in the extrovert box. Their friend Tessa would be in the introvert box. Aiden, computer whiz, extrovert, Laurel, lover of literature, introvert. Skyler, dog enthusiast, extrovert, Ian, mathematician, introvert. Yvonne, mini marine biologist, extrovert, Skipper, soccer player, introvert. Everyone had a box.
     People should just stay in their boxes. It would be better that way.
Two months passed, and, near the end of the school year, I saw something I never thought I'd see. Naomi stormed up to me, a deep frown on her face.
     "I can't believe you, Prudence," she snapped, her voice knitted with rage, Cady and Ollie trailing behind. You've been here seven months. School will be out in two weeks. I really thought you had new kid's blues, but it turns out, you're just genuinely cross, and I'm sick of it. Please, just tell me WHAT THE HECK IS WRONG WITH YOU!" Due to the following silence of the 200 swimmers, this never happened.
     "What's wrong with you?"
     "Don't act like you don't know. All you do is moan and groan about how no one likes you, and then you push away the people that try!"
     "Well, no one does like me!"
     "Really? I thought I was your friend. I thought we were your friends. I thought we," she shouted, gesturing to all of the swimmers, "were family."
     I felt hot tears of so many emotions well up inside of me. "Then why do I see a monster whenever I look in the mirror? Why do I hear threats and whispers and snorts in the hallways when I walk by? What about the names? Why is everyone hesitant to sit by me? WHY DOES NOBODY CARE ABOUT ME?"
     There was a long pause before a swimmer in the water who I'd never spoken to before cleared his throat. "I think you're cool."
     A girl by the kickboards crossed her arms. I then realized it was Tessa. "I think you're brilliant. You always try to translate Mr. Crook's phrases."
     "I think you're awesome! I feel so embarrassed whenever I have to race you because I know you'll beat my by your streamline!" Ollie said laughing. Ollie. Tessa. Introverts.
     "I think you're brave. At the state meet in January, you didn't twitch."
     "I think you're strong."
     "And pretty!"
     Cady smiled. "And wicked fast."
     Naomi smiled sadly. "Prudence, is it possible that the only one who ever says bad things about you… is you?"
     I thought.
     And the tears came rolling down my face. It was more that possible. It was true. All these years and the biggest bully had always been me. I would never say any of those things to anyone else. So why did I do it to myself? All this time looking for people who really understood me, for friends, had I really had them all along?
     My answer came with 200 wet hugs.
                                                                Two Years Later
     "Hey Nattie, pass the popcorn! You've been hogging it all night!" Cady hollered. It was Ellie and my 15th birthday party. It was July. We still had a precious month and a half before moving up to the high school section. When Nattie refused, Naomi casually strode over and wrestled the bowl away from her.
     "Ha, Nattie not getting what she wants? This must be an alternate dimension," Emmy said, causing us all to laugh. We were packed into the basement, watching horror movies all night long. Ellie was upstairs "brushing her teeth." Liar. Ellie never brushed her teeth. She was upstairs clutching her pillow and telling herself to straighten up. Much to my surprise, I didn't mind the gore. Lia and I had already had to shoo Isaac back upstairs several times, until Mom finally gave in to desperate measures and put a combination lock on his bedroom door. We had paused the movie, waiting for Ellie to get back. It took fifteen minutes.
     "What's wrong with your sister?" Laurel asked, getting bored.
     "Don't know. She's usually the tough one," I admitted, shrugging.
     Meg snorted. "Yeah, well, she must really like the taste of butter and toothpaste."
     "HEY ELLIE!" Skyler shouted, "HURRY UP!" A minute later, a white faced Ellie emerged.
     Lia rolled her eyes. "Hey Ellie, how was your tooth brushing experience? Did you really move that brush up and down? Did you feel the rotation of the bristles ridding you of plaque? Did your taste buds tingle as the stinging, minty-"
     "Lia, shut up," Ellie snapped. We resumed the movie. Ellie had to take breaks to scream into the pillow.
     "Naomi," I said, "Remind me never to use that pillow again."
     "No problemo, sista."
     "You guys are so mean!" Ellie screamed. Though this is a bad moment, that was a joke. We're those girls that would rather be tardy than watch someone have to pick up all their stuff in the hall when they drop it. We volunteer for community service, work at shelters and nursing homes, and just do whatever we can to make the world a better place. Because it turns out, people don't belong in boxes. People belong with each other.
The next day was my actual birthday. Dad had taken Ellie and Isaac to an amusement park, while, as I still can't stomach thrill rides, had stayed home to sleep in. At nine, my mom knocked on the door.
     "Prudence, get dressed and come down here. I have something that I really think you're going to like for your special day!" I throw on shorts and a Raptors Swim Team sweatshirt, then trudge downstairs. My jaw goes slack.
     There, at MY kitchen table, drinking out of MY second favorite coffee mug, talking to MY mother was Speedy Cortez.
     THE Speedy Cortez. Wombats swooped around in my stomach.
     "I think I'm going to be sick," I whispered. "Or I'm already sick. Or dead."
     "Oh, hello my beautiful girl!" my mom chirped. "I'd like you to meet an old friend of mine. This is Miss Prudence Cortez."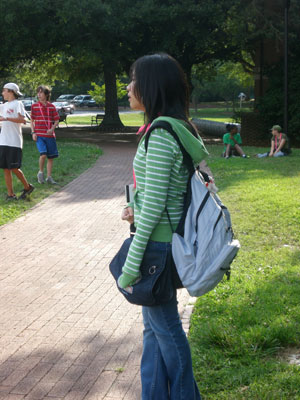 © Lucienne B., Parkland, FL