A Whole Made of Thirds
September 17, 2017
Split and Whole

Mickey sat back on the porch swing, alone in the dim glow of the porch light. The day had felt long. A cold breeze shuffled up the porch steps, sending shivers up her arms. She was happy to be alone, and happy in the quiet.
Before that, Mickey had spat at the earth.

"My thoughts are my own."

The fog had cleared to reveal the body of Angie – the figure that hadn't made it up the porch steps. It quickly faded into the earth, and soon was just a memory in the dark.

Before that, the body that felt slow would lose consciousness as the fog filled her lungs, quiet seeping into her talkative, even at times garrulous mouth. It had come from a corner of almost nowhere, and she'd said nothing as it seeped and crawled and choked.

Before that, Angie had trailed behind Mickey, slower than usual. They had brushed off their disagreement as nothing special or out of the ordinary, and headed home. It was not the first fight they'd had.

At the time Angie had been slow, Mickey's image grew taller and sharper.

Before that, Mickey had seen the fog around the edges of her vision. She had at first thought it her weary eyes adjusting harshly to the changing light.

Before that, one other figure faded into the light of midday. The others would walk on, bickering harshly when they felt they should have their say. Angie for once felt as though she had breath to save.

Before that, the three figures, including Mickey and Angie, walked uncomfortably close along the coastal trail. Angie, even standing with the other small figure, had felt unwelcome and unsure, and the feeling did not cease.
Before that, a seemingly offhand comment made by Mickey had set the air between them too still for ease of thought. The smaller figure had decided then that she would leave if tensions rose any higher.

Before that, Mickey had felt a jolt of recognition; her chance to become whole was near. Free, she'd thought.
Before that, it was a usual uncomfortable day as three voices sharing one mouth.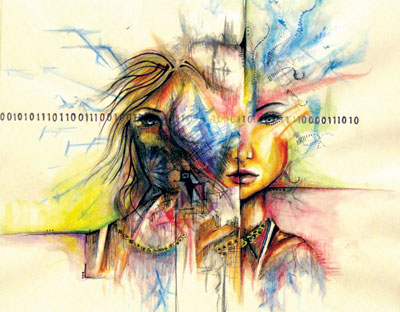 © Melissa W., Fayetteville, GA