Beautiful
November 2, 2016
Wednesday, April 24, 2009
9 years old
Dear Diary,
Miss Julie told us to start a diary today so I am starting. She said to write about things that matter. I don't know what that means but my mom told me it means to write something I care about. Today I went to Meredith's house and we played tag with Hazel. I had fun. But when I went to the kitchen to get a glass of water I could hear Lea, Meredith's older sister, talking on the phone. She was laughing and saying, well if she isn't pretty by now then it's too late. I was wondering who Lea was talking about and what the girl looked like. Was she someone I knew? Was she someone I thought was pretty, but Lea didn't? How old was she? How do you know if you're pretty? Am I pretty? When will it be too late for me?
Bye for now.
Alanna

Saturday, January 7, 2011
11 years old
Dear Diary,
I know I haven't written in here for a while. But I think I'll start writing in you again because Hazel (she's very smart and reads lots of articles) told me it's good to "express your feelings." I don't really know what to say so I'll just talk about life. Last week my mom started her diet for her New Year's resolution. She says she's "too fat" and wants to get in shape. I told her that she looks fine but she still wants to diet. She also told me to cherish my younger years when keeping in shape is easy. I asked her if I was in shape and she told me I was "beautiful" but Meredith said her mom says that to her all the time too. I have to do my spelling homework now, but I promise I'll write in you soon.
Alanna

Sunday May 31, 2012
12 years old
Dear Diary,
This weekend was Memorial Day weekend and I went to Sarah's pool with my friends. I had fun, but I'm kinda sad. Meredith and Hazel are both really tall and skinny. But I'm short. I don't want to be short. My parents say I will grow, but I'm not so sure. I think I'm going to start shaving my legs because Sarah said it's weird not to. I might even try to exercise because I want to be skinny and have abs like Kendall Jenner.
Alanna
Saturday, July 8, 2012
12 years old
Dear Diary,
I'm sorry I haven't written much but it's because I got a PHONE!!! I'm so excited. My phone has everything, but I mostly use it to read articles online (I don't want to waste paper). The online magazines with the best articles are Seventeen, Vogue, and People. But I keep seeing articles about how to get a "summer body". I, apparently, don't have a summer body. But, I'm going to do the workouts they have in there and maybe I can get skinny.
Alanna

Thursday, September 22, 2013
13 years old
Dear Diary,
I started 8th grade 2 weeks ago. I'm excited because this weekend I'm getting lip gloss. All the 8th grade girls at school wear makeup, and I think it looks pretty cool. It makes you pretty, and I want to be pretty. I still remember what Leah said those years ago. I think I'm okay looking. I'm not stunning (vocab word I learned) but I'm not ugly. At least I think I'm not.
Alanna

Monday, February 1, 2013
13 years old
Dear Diary,
Today I met a new girl at school. Her name is Lily and she seems nice. But she's SUPER PRETTY. Like really pretty. Everyone noticed, and even the boys kept looking at her. I wish I was pretty like her. Lily, doesn't have to worry, but when will it be too late for me to become pretty? In health class they said you go through a growth spurt where you become an adult called puberty. Maybe my face will become pretty then.
Alanna

Tuesday, September 9, 2014
14 years old
Dear Diary,
Yesterday I started high school. It was really scary because there are lots of new people at my new school. The popular girls were all really skinny, with blown out hair and wearing makeup. At lunch, Eva told me I have a "schnoz".  She wasn't trying to be mean about it, we were all talking about our faces. According to our observations, Meredith has small lips, Hazel has short eyelashes, Sarah has ears that stick out and Eva has thin hair. And I have a "schnoz". That means I have a big nose. I want to look like the models in magazines, but none of them have "schnozes". Now I can't stop seeing how big it is everytime I look in the mirror.
Alanna

Wednesday, May 12, 2015
15 years old
Dear Diary,
Today is my birthday, but I'm not happy. I waited 6 months since my last entry, and I'm still not pretty. I have pimples on my face, and I have fat thighs and a big stomach. And why does my nose keep growing? I'm 15 now, does that mean it's too late? Is there no hope to be pretty by this time? I'm trying everything. I don't eat my food and wear lots of makeup, but I'm still ugly.
Alanna

Saturday, July 12, 2015
15 years old
Dear Diary,
I weigh myself every day now. I'm losing weight, but why do I still look fat? I can't tell my friends, because I'm afraid they'll tell my parents I don't keep my food down. I only have you to talk to, Diary. Even though it's summer, some days I shiver and I always have headaches. My parents are working all day, so it's just me most of the time. Somedays I can't even leave my bed, so I just lie there, wondering how everyone else is so happy when I'm just so sad. I just lie here, without a purpose and without a future.

Sunday, August 24, 2015
15 years old

Dear Diary,
I'm being sent away. My parents took me to the doctor and therapist yesterday, who told me I was anorexic and depressed. I'm leaving in a week. But I don't want to leave. I don't want to stay either. I don't want to exist. The only reason to exist is if you're pretty, or happy. I'm neither.
Alanna

Tuesday, August 26, 2015
15 years old

Dear Diary,
My mom is packing my stuff. I hear her crying sometimes from my room now. My dad sniffles sometimes too. Why have I caused them so much pain? I do more harm than good. I might as well just go.

Wednesday, August 27, 2015
15 years old
Dear Diary,
My mom keeps her pills in the medicine cabinet. I'm going to do it. Love, Alanna.

Obituary: Alanna Farelinn
Alanna, 15,  passed away peacefully August 27. She was a joy to all and will be dearly missed. She was beautiful, inside and out.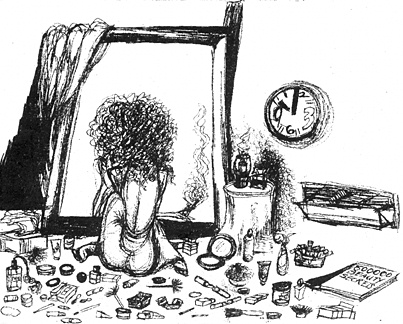 © Asha M., Philadelphia, PA