Goodbye to a World
May 28, 2015
THANK YOU

"Thank you, daddy!" I squealed as I walked over to the ride and had the most childish grin on my face. My father had just let me ride a small little roller coaster for the second time this day.
He stood back and trust me that I was old enough to strap myself in and have my own good time.
Seeing him wave at me and make a funny face whenever I ascended from a hill was the greatest feeling. It sent butterflies in my stomach, it made me wave my hands in the air as he took what I felt at the time, was a horrid descent. But I enjoyed every moment riding that train…
...and I loved every moment seeing my father take a picture of me.

I'LL SAY GOODBYE SOON

My mother was never home. She was always out doing something. Working, shopping, whatever it was it kept her from seeing me, and I'd always ask where mommy went off to.
"She'll be here soon, buddy." he'd always answer with that.
One night I could only hear my mother come home as I sat in bed and heard stomping of feet go right to my father's door. She opened, slammed the door shut, and they got in a fight.
I never listened to the fight. I just slept away and sobbed.
I was scared.

THOUGH IT'S THE END OF THE WORLD

There was one day, about a year later, I asked, "Daddy, why do you and mommy always fight?" I asked in an upset tone.
He could only stare at me and I noticed by asking this he was starting to cry. I hugged him after he pulled me close and hugged me tighter than I had ever felt. I had heard mother storm outside last night.
My father answered with;
"...because he found the wrong wife…"

DON'T BLAME YOURSELF, NOW.

About two years later, I had was dropped off from school and I walked into the house, expecting my father to be there and walk me in, but instead he was embracing another woman…
"Thank you, Elise...Thank you…"
I didn't recognize this woman, but it appeared the two had already liked each other a lot. Little did I know;
this was going to be my new mother.

AND IF IT'S TRUE

They kept dating and I eventually came to realize (as I got older) that the two had started dating and finally became a couple.
One night I overheard a conversation talking about how he regret the day he met that 'woman', and how he was cheated on by three other men, and that if he ever saw her again, he'd make her sorry.
Within the two years my dad didn't have a partner, we had moved about three times. It was awful.
My dad was a confused mess, and I felt I needed to do something.

I WILL SURROUND YOU

Life went on and I moved out of the house. I had grown a liking towards Elise and considered her as a good mother. But I always felt a bit fuzzy towards my true mother. I never really got to meet her…
...because she was out late so often.
With her other kids.
I eventually forgot all about my real mother and I went on to live the rest of my life in success. Things were going out perfectly. I was unpacking my things and starting to remember all the great times I had with my father… I found the picture he took of me on the train ride.

AND GIVE LIFE TO A WORLD

I kept looking through my baby pictures, my childhood photos, and my father. I actually found a picture my father gave to me in an envelope that contained a photo of me and my mother at their wedding.
With this being a solid unrecognized piece of my past, I kept it safe in a picture frame on a wall.
Later that day I got a text message.
You need to come see your father. He got struck by a truck and is suffering major brain damage. We are afraid he is not going to last that much longer in our hospital. He only has a few more hours.
He was hit at 3:48 PM, on Lincoln Street.

THAT'S OUR OWN.

I walked up to his hospital bed and saw him laying there, taking short breaths and looked like he was in a lot of pain if he inhaled too much oxygen into his chest.
I was already crying and was by his side, holding his hand whilst the doctors did was he could to let him live a bit longer.
His heart rate was steadily increasing and I couldn't believe…
...my father was going to…
*.....beep.......beep...............-------------------------------------------------*
My father died right before my very eyes…
...and in my hands.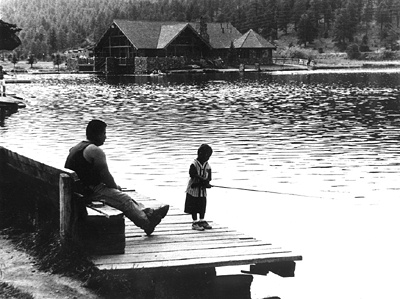 © Ryan P., Greenwood Village, CO