Slash
March 4, 2013
He loves me.
slash
He loves me not.
slash
He loves me.
slash
He loves me not.
slash
It's dripping. Huh. It's satisfying. At least I'm doing something right.
It doesn't matter what they say. They can't do anything. Nothing.
It's not like they care, anyway.
And her. She asks me why, why am I doing this?
Hah. Like she doesn't know. It's not her fault, is it?
Is it?
No. Not hers. It's his. Only his.
slash
No, don't cry. Stop crying, b****.
SLASH
Ow. That one stung.
Next side.
Stop, he says. Stop.
Make Me.
Please stop.
I can't.
slash.
Stop.
slash.
Please.
slash
Stop…
Still dripping. Dripping, sliding down, pooling. Sliding off the bed, slipping to the floor. Drip, drip, drip, rain off a tree.
Hmmm… trees. I like trees…. Maybe I can go outside and play with them…
No. finish. Finish and then play.
slash
But I can't if I finish I leave them, never see them again, by themselves, see? Want to play…
NO. can't stop.
slash
But I want to… heyy door is opening… how can door open?
"MARY!"
Finish. Finish now!!!!
"oh god oh god its all over the floor…"
"call an ambulance!!!"
"Nooo… momdontimalmostdone"
There. Finished. Happy now?
"we're losing her oh please god no"!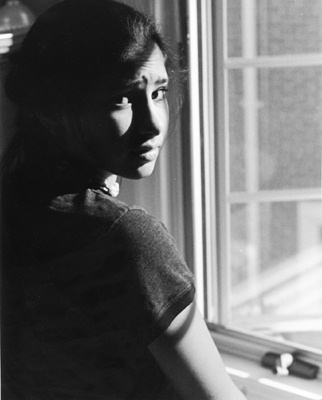 © Jennifer H., Bethesda, MD