The Way Home
May 25, 2012
Staring out the window, I long for reaching the stars hanging up above the sky. I try to stretch out my hand to catch it, yet it seems like a million miles away beyond my touch – I wonder where they will lead us to. Someday, I would be able to find out the path these stars guide us towards, if only I could break free from this castle that I am stuck in.

Birds chirp every morning as if they are humming a melodic tune. Fingers brush across my face, running gracefully through my hair, I wake up to a large proportion of food in front of me. Many fantasize about the idea of having breakfast in bed, but when you get to have this royalty service every single morning, you will never want any more of that. At times, I would imagine waking up, walking out of the big gate of this place and flee to a place where I could eat in a tiny restaurant, sitting at a table with a bunch of lovely strangers, if only I could escape from this place where objects are too dazzling that the shimmer hurts my eyes.

Waltz is a torture. My partner is forever this coach who refuses to speak in any other languages except his mother tongue, German. How I fancy the idea of dancing with a gorgeous dancer, and when we came to the parts where he had to spin me, I would go round and round in circles, and then I would fall gracefully back into his arms, if only I could get rid of my royal identity.

I was gazing at the stars last night, wondering why they shone so bright, a swallow caught my sight. It was swirling beautifully on top of the watchtower of my castle under the moonlight, round and round in circles, then off it went, out of sight, to a place where I could no longer see. I looked to my nightingale in the birdcage, sharing the sorrow it felt, suddenly it cut through me, leaving me with pain. The sore was never-ending, I could almost feel my heart breaking and bending. This caged creature, I wondered if it had ever thought about getting away, flying freely as swallows. My tutor told me once that swallows always find their way home. I used to wonder where, I used to wonder why.

"What do you want to be when you grow up, your highness?"

A swallow. I want to be as free as a swallow when I grow up. I want to run away from this place. I want to break free from this cage. I want to find my way home.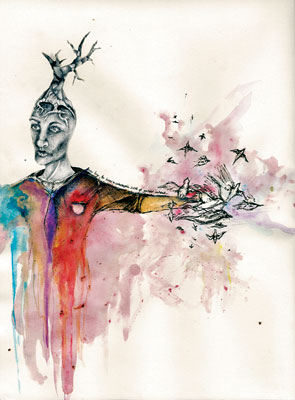 © Alice B., Sarasota, FL