Seasons Passing
September 8, 2010
I sat under the luscious tree. Every single bud had bloomed. Every leaf on the tree's branches was fully developed. It was summer; a time for joy, and a time of beauty. My thoughts were full of the year's memories, and hopes for the months to come. They seemed distant, but still present. When the winds did blow, they were more like gusts of heat blowing at my face…


The leaves turned orange, brown, red, and yellow. The winds became cooler as they pushed against my face, and shook the trees. The area around the bench where I sat became surrounded by bright-coloured leaves. Autumn was here, and I could almost taste the dampness of my surroundings. I could smell the fresh air, and feel the crisp winds blow, getting progressively harder each time…


Snow started to fall from the sky. The trees were bare. Their branches didn't hold a single leaf. Vibrant colours were no longer surrounding me – just a pure sheet of white covering the ground like a blanket. The winds blew so harshly that icicles came crashing down from the tree's branches. The gusts so cold that they sent shivers down my spine. The bench where I sat was icy, slippery, and cool, making it almost impossible for me to sit still. Winter turned everything in its path into a frozen wonderland…


The snow melted, and so did the icicles. First came rain, then the sun – there was a constant switch between the two. Buds started to appear on the tree's branches, and blossoms started to bloom, making it clear that spring had arrived. The bench were I sat was no longer slippery, but wet. On other days, it was dry. Some days, I saw a combination of them. The winds were getting warmer, as was the outdoors…


Blossoms drift off of the tree of their own accord – no winds push them off – and they land softly onto my lap. Luscious green leaves take their place, and the tree is in full bloom once more. As I cit on my bench and close my eyes, I feel the warm gusts of wind along my face, and remember the months past; how quickly they had come and gone. Sitting in my spot still, I know that summer has arrived yet again. I repeatedly sat there, day after day, until autumn came, followed by winter and spring, and the whole cycle repeated over and over, each time passing by faster and faster. Not once, though, did I let a single moment pass me by unnoticed. Each second I will cherish forever.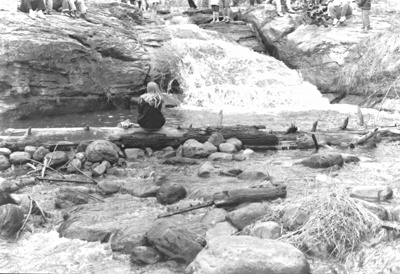 © Andrea E., Phoenix, AZ