I Know Something You Will Never Know...
July 30, 2010
I Know Something You Don't Know...


Tuesday,

They want me to write. I don't like to write. They say "it will help." Help what? I don't want help.
I want quiet. My room isn't quiet. I can't understand why they won't just let me have the white room. It's clean, quiet, and empty.
A lot like those "doctors'" heads. They aren't smart, not really. They just talk BIG. But They really just think small. Really small, microscopic minds.
Now mind you, I think. I think HUGE. But maybe that's just the meds talking.
Now I sleep.

Thursday,

Yesterday, they put me in the white room. It was so nice to be surrounded by the emptiness. The hollowness bouncing off the walls of my mind. But now I'm back here, being carted by Them to the chapel. It has an awful sign that says "Jesus loves you."
No. No he does not.

Friday,

I'm cold. They took my blankets because my b***h of a roommate is a suicidal p***y.
But the official name is schizophrenia. But I don't see why they won't move her. On me. But no. Instead, I'm cold.
And very near "catatonic." Just because I like the quiet, I've become an obviously a nonfunctioning human.
I just like to be alone.

Saturday,

It's visitation day and Mom is here with my sister, Sharon.
"I hate this place," whispered Sharon. Well Sharon, they hate you here too.
"Hush now, Sharon," she says in a hushed tone, her face flushed red as she turned to me. "How are you Sweetie?" Mom asks, choking back a sob when I merely blink in reply. She waves the orderly over to take me away.
Except he isn't very orderly. He's actually a large, foreboding slob. His scrubs are wrinkled, his shoes are untied, and his hair is unkept. Not to mention, he's f***ing Alice Marlinstan. She is a sex addict, and he is a readily available body that moaned, groaned, and had orgasms.
But sex has never played any major role in my life. I have knowledge of the opposite sex, don't get me wrong. But see, I don't enjoy it. What's there to enjoy about it? People acting like animals, it's disgustingly primal. I don't feel the urge to do anything of the sorts.
But that's not to say I've never done anything primal.

Sunday,

There are hands that reach for me in the darkness. They try to catch me, I am their play thing. They like to use me, they grab at my wrists and ankles and I want out.
That's why I like the white room. It keeps the demons out. I like the quiet it allows me to enjoy.
But no one else in this place understands my joy. It's "anti-social," and it makes me "uncooperative." But that's okay by me, I like the attention.
Sometimes I don't need it though. The attention. I just need air.
Air which penetrates my lungs and silences the naysayers of my dreams. But like they say,
There's no rest for the wicked.

Wednesday,

I forget to write when They scream at me. You can understand that, can't you? They take hold of me and scream while I sleep and when I wake, They come again with new vengeance and start screaming once again. And keep screaming. Until I can't hear anything but the noise.
So They locked me in the white room. It made it all quiet in my head. Nothing but the sweet emptiness of the pretty, padded room. And They put me in a pretty white shirt that wrapped me up oh-so-tightly. I could breathe in there. It was beautiful.
Like the nurse that's pushing me back into my room now. She's older though, with pale skin and wrinkles from worry. And she's pushing the scales at 239, which looks bad on her 5'4" frame. But she carries herself well.

Thursday,

I'm going back to the chapel with the rest of the mindless amongst me. They all sit there; spit dripping from their open mouths. No one is noticing that Mallory Henkle is dead; her eyes have already started to glaze over and lose their shape. Paul Neely is coughing, but it's not a real cough. It's a lie. He's a liar.
A lot like the staff around here. In group, they lie. To your face, they lie. To your attending doctor, they lie. They're much worse than a prostitute when it comes to lying. Whether it's lying on their backs or not, I can't exactly disclose.
But we all have our suspicions, right?

Friday,

I'm hungry right now. I haven't eaten in a few days, too much noise in my head. They tell me I can't eat because They can't eat. It's only fair, right?
Wrong. It's not fair to the children who cannot attend the gauzy, nicotine coated fair. But what do they have to do with it?
It's all innocence as a child. Unless the child is more primal than perfect. Under the fake Kodak moments, you can see how the child longs to escape the falseness.
And I did.

Saturday,

I can't escape the roommate I have now. She follows me, stink on s**t. She seems to be more the s**t than I am. I can see the runny mess trickle down her leg, but she says nothing.
So neither do I. Why should I? If she wants to stew in her own s**t, it's her own business. It's a literal pity party, and everyone else can see it. But she can't, she has on pink glasses that make everything seem peachy-keen.
Which was my mother's favourite line. Everything was always peachy f***ing keen. But I'm not into it, not one bit.
You can't fool me with my own bull***t.

Wednesday,

The light in the cafeteria couldn't make up its mind. It flickered on and off, buzzing and pulsating in my head, my lips bloody from biting them in tune.
A tune you can only hear in this place. It's a sick sounding scream that echoes off the ugly puke green walls in this hell hole.
Hell you can touch, hell you can feel. It surrounds you like a blanket and chokes the life out of you. This is every sane person's dream vacation and every crazy person's hell. I suppose they don't know the reality of this place.
Which doesn't say much, since this place isn't much of a reality. They do a damn good job of shutting out the real world and hiding us from the world's sweeping eyes. It's almost scary.
But I won't scream.

Thursday,

I'm sick. Funny, I know. But I'm sick nonetheless. My fingers are bloody, just like my eyes. And I'm not able to sleep anymore. I can barely think these days. They make me hurt. And this man, this new man, he screams at me for no reason.
Reason. It's something that's lacking here. I feel okay without it. But for how long? Soon, it'll fly out the window like a free bird.
But what'll become of me?

Friday,

I can't stand this, my insides itch. Father came to see me again.
"Hey Kiddo," he looks at me and, for a second, I feel like throwing up. He blinks awkwardly at me and I return it.
"Doc said you've been writing, but they can't find the notebook they gave you. So I figured you maybe want some more." He pulls three basic spiral notebooks from his case. They're primary colors and have my name written on them in my father's big block handwriting. I almost don't want to look up from them, but his voice commands my attention.
"Anyway, I thought I'd tell you the divorce went through. Your mother should be coming see you soon. She'll fill you in on all the details. But I gotta go now, Kid." He stood, placing the notebooks on my bed and nodding at the disorderly.
"Jeeze Joe, you think it'll ever get any better?" I could hear a muffled grunt and a quick maybe from Joe the Disorderly before my father left completely. I returned the favor.
But there are things no one can return. There are no rebates for what my father stole.
No one wants damaged goods.

Saturday,

Segments of her mind are missing. She's everywhere though, fluttering 'round my melted mind, absorbing what she's misplaced. She's kissing my memories and taking what she pleases. She's a child, tossed to the side. She's the baby in the corner.
Which is where they put me, the almost comatose "catatonic" schizophrenic who got tossed out with the bathwater.
But I'm not catatonic. I'm merely ignoring the rest of the world. It must be the O.D.D.
They're lucky they want me to talk.

Sunday,

We have a new resident. His name is Dylan Haleigh and he's 17 years old. He has that mind munching STD that Hitler had. But I can't spell it and I won't try. He's allergic to penicillin, but apparently, not to bulls**t.
He's spewing his today. He's trying to get my attention and he's succeeding in getting me upset. But I guess it's okay when you're going brain dead. And everyone here is crazy enough that they don't really see much more than another face. They disregard the name because, who are they to label him anyway?
He's telling stories, lots of lies. Tall tales from short guys, it's the irony of being alive. He can make up anything he pleases now, but soon he'll say nothing.
"I know something you will never know," he whispers. Indeed.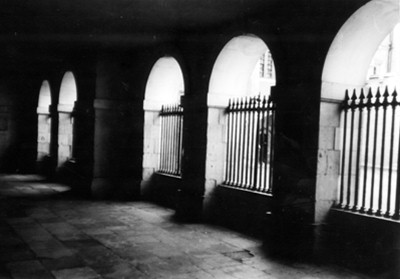 © Hadley B., Marblehead, MA