Semantics
June 28, 2010
The macaroni was too cheesy, she thought. She pushed a piece across her plate, half watching the thin ooze that followed her fork, half listening to the tinny music that flowed out of the speakers which studded the ceiling of the restaurant.

It was the type of music that made her want to sigh, to turn her head and look out the window at the cars stopped at the traffic light, to look at all those people encased in their own metal containers and wonder at the meaning of life. It was restaurant music, background music, the type she'd tune out with friends, but suddenly had more significance when she was alone.

But it wasn't the type of music she would have in her beat up CD player, no. In private, she listened to passionate vocals, intricate guitar riffs, and convoluted drum patterns that overwhelmed. No, this was the type of music appropriate to the public. Unlike most pop music though, this song was something she approved of. It was approachable, but not. It wasn't tangible enough that she could relate to it, but vague enough so that everyone could.

Maybe it was the way the singer crooned the lyrics, softly, holding each word in like a caress, and then releasing it so deliberately. Maybe it was because everything was so much more vivid when experienced alone.

It was just right, she thought. She forked a piece of macaroni into her mouth, half of her trying to decipher the tacit promises spoken in the music, the other half being pulled along by the ebb and flow of music until no coherent thought was feasible.

It was the type of music that had just the right touch of vagueness to keep her guessing, keep her wondering at the life it hinted at as she turned her head and sighed at the cars that have just started moving outside her window.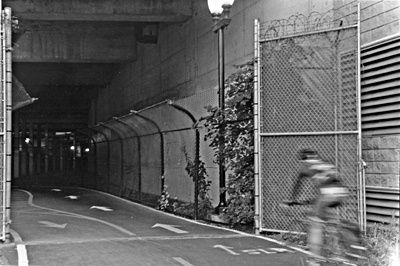 © Claire E., Bethesda, MD