Carnations
May 2, 2010
Two nights. Three nights. Ten nights. I had lost count of the sleepless, lightless days since I last held my Papa's hand. I reached for the carnation that lay on my bedside table and threw it across the room a new friend, but an evil reminder. As the rounded pink flower dropped to the floor under my overhead light the fan turned it over once and the light caught a single blue sparkle that reminded me of the one from Papa Buddy's eye. In the midst of his now dull black and white complexion I knew that that blue twinkle still lived behind him.

I wondered if his soul was in that sparkle. I had often believed that we carried one characteristic of our human selves to Heaven with us. I made a mental note to look for his blue sparkle when I get there too. I smiled and the carnation and immediately felt guilty befriending the disgustingly innocent and beautiful contour.

"Carnations are the flowers of death," Papa used to tell me. I hated how towards The End he would talk of his funeral plans and how everything was to be arranged. Arraignments were for china and porcelain and flowers.

"At my funereal there will be dancing and singing—a celebration of my life!" But still the flowers came. A short delivery boy with a lisp delivered the first round. My mother tried to get rid of them but still they stayed.

"Ma'am, thef flowerth were ordered by thoeone, tho I have to leath them with you, tho if you will jutht thine on the dotted line, I'll be on my way." I hated the way he couldn't say his 's' it wasn't hard, just do the snake hissing. I remembered that trick from speech therapy when I was six, okay so maybe I was being a bit hypocritical...

The carnations were persistent to leave their scent and scar on our day; no one could make them leave. The florist had said someone had ordered them and it was company policy that they had to stay.
My grandmother said that someone had to of ordered them, and it was their will to have them there. She said anything to make someone feel better would be fine and that we would have to put on a brave face, grin and bear it. That was her favorite expression, that and ,"What doesn't kill you makes you stronger". I could tell she had specifically chosen that expression. It made me sick how she talked of them, like obnoxious party guests that we must be polite to.

My father even got in on the rage by grabbing a handful from florist #2 and plopping them into the toilet, but they wouldn't flush down, so there they stayed. All night they teased me.

"Dead, Dead, Dead," they sang. I tried to drown out their red velvet petals mocking my own plain dress, but nothing helped. A tear scolded my cheek. It happily betrayed me by taking on the bright pigment of the carnations, my own body- turned against me. So delicate and smooth they lay, peering up at me from behind their curtained petals. My own features were nothing to compare.

Maybe that's why Papa didn't want them there, maybe he too felt they would be mocking this rotund frame and coarse hair, or maybe that was just a young girls self conscious. I decided to be so bold as to grace myself with one in my hair hoping their grace and beauty would somehow rub off on me.

I silently prayed that it would whittle and die leaving its beauty in my soon-to-be-delicate and able hands. "Perhaps," I thought, "If I cannot fight them, I could just maybe embrace them...maybe."

I picked one up with my stubby fingers and automatically I was jealous of their slender stems. Like a dancer. I audaciously broke the stem shortening it drastically, somehow it felt good. I looked down and saw the blossom and stubby end remaining and tucked it behind my pointy ear. Nothing—not even a spark.

I walked towards the window and saw it gracefully draping my hair back and it felt good, like I had conquered it. Now it was working for the enemy. I knew it was silly to think, but it gave me an air of pride and superiority to know that it beauty was rubbing off on me—a constant desire within my heart. It no longer ruled me. I could finally embrace the vile flowers and use them of my own benefit, it was vain of me, but it felt good.

I walked around the funeral home with my head held high and proud for the first time since I had walked into the room. Agony and lethal flowers once climbed the walls, but now the darkness seemed to transform into a beauty. Peoples complaints of "can you believe this overwhelming smell?' and "I hope this doesn't last too long because Billy and Sarah have an 8:00 A.M. soccer game tomorrow morning" seemed to fade into stories of the marvelous man.

I believe I even heard my father say that he had some business to attend to in the bathroom. I know he didn't mean that he had to relieve himself because he would have just come right out and said it. Then my mother would have shushed him reminding him that we were in polite company. He strode across the half linoleum half carpeted room and turned into a unisex bathroom stall. I waited outside and heard no toilet flush and no sink turn on. When he finally opened the door I flew back a few steps not wanting him to know I was listening.

"It's open," my dad said as he strode out. I smiled politely and turned to follow him away. I still have no idea what he did in that bathroom stalls, but when he came out a single wet rose petal was stuck to his shoe. I grinned to myself, sometime, not right now, but sometime I would have to ask him what he did in there, but for now I didn't want to ruin the magic. There was no singing or dancing, but with the carnations at rest within myself, I began the celebration of his life.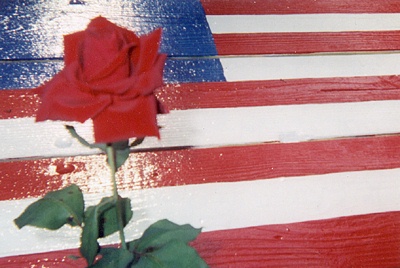 © Elizabeth H., Gulfport, MS