The Most Unfortunate Person on the Earth
April 12, 2009
I had been chased by a rabid dog, and they were watching. They didn't realize what had happened until it was too late to save me, for I had hit the dog in the snout with my backpack. I don't know why it started chasing me, but it did. Someone needs to teach that dog that foaming at the mouth isn't a good way of making friends, but to scare away potential ones. I mean the dog was small and black and cute, but boy was I scared. Anyway they were watching, blaming each other rather than themselves, and I really wished that they didn't do that. Especially over me, Emma Southard, a.k.a The Most Unfortunate Person on the Earth.

They are Kevin and Ryan, twins born in Sydney, Australia, with smoldering brown eyes and chin length platinum blonde hair. Every time I see them I wonder what they could possibly see in a small town like Clementon, but they never have answered that question. Behind their totally opposing personalities lies mystery.
Today was no different than any other day for me.

"Oh my God, Ryan!"

"Why weren't you protecting Emma, Kevin?"

"I'm not the only one that's supposed to protect Emma!"

"You don't even protect Emma when you're supposed to!"

It was horrible. It felt like my ears were going to bleed if I had to hear any more of the Australian banter pass through them. Ever heard nails on a chalkboard? It was like that, except intensified because of the situation that I had to get out of with the dog. Alone. The wind cooled my face and the blood in it began to cool down and help the areas of my body that really needed it; like my overly exhausted legs. But when the breeze would stop for a quick cooling down of it's own, the 3 o'clock sun would just heat it up again. I turned to look at the twins. I heard acts of violence and saw things that I remembered doing in the fourth grade. Like blowing raspberries and making loud blaring noises to drown out another person's speaking. Utterly callow. At least the solid shade of azure in the sky helped calm me down enough to confront them.

"Guys." I began in my sweet-n-soprano voice, resting my baby hands on my hips, with my long, ginger hair falling on my short sleeved striped dress. Ryan stopped the blaring to listen, and Kevin stopped the raspberry(even though when he looked at me his ultra-pink tongue was hanging out. I involuntarily shuddered. It was just like the dog. All you need is whipped cream.) The tall blades of grass swooned with the sudden uplift of the breeze again.

"I thought you two were fifteen." I said, not in a question format. My cutie-honey voice didn't make me sound as cantankerous and irritated as I was.
"We are." Ryan spoke up for both him and his brother. The shade of red on his flannels shirt helped bring out his eyes.

"Then why are you acting like this? It was a rabid dog; so what? You guys didn't save me; SO WHAT. Actually, you guys didn't even try to save me, instead you gawked like blonde fishes. But so what. I'm okay now, so it's all good. You can't save me all the time, okay? So please don't try to save me all—"

Falling into the muddy ditch near the Stevenson's house was…unexpected. I felt as low as the substance that I had landed in. I just remember falling backward, and then twisting, holding my arms out to break my fall, and then a murky, soft, and chilly sensation as my face connected with the mud. I sat up slowly, trying to figure out how I could've fallen like that, and then I remembered my alias: The Most Unfortunate Person on the Earth. Oh yeah. That. Nonetheless, when I pushed myself up and out of the mud, it was hard not to bawl and run away from the scene. To run away from the twins that I knew were going to blame each other in about 3…2…1…

"OH MY GOD, RYAN!"

"KEVIN, WHERE ARE YOU LOOKING?!"

"L—LOOK AT EMMA! LOOK WHAT YOU DID!"

"YOU NEED TO START PAYING MORE ATTENTION TO HER, KEVIN! SHE'S A GIRL, SHE ISN'T SUPPOSED TO BE COVERED IN MUD!"

"JUST SHUT UP, RYAN! DON'T TALK TO ME AGAIN UNTIL YOU CAN ACTUALLY LOOK AFTER A GIRL! ESPECIALLY ONE AS TROUBLE-PRONE AS EMMA!"

"Take me home. NOW." I demanded, quieting the twins. My penetrating voice changed from angelic to demonic, for my anger and irritancy was now coated with embarrassment and anxiousness. I wasn't looking forward to walking home like this. Why was it always me that go into trouble? I tried to focus on that, and not what I was covered in, as I walked home with Ryan's arm around my waist, Kevin whispering angry insults towards him. This kind of thing happened everyday when I walked home from school with the twins, I didn't understand. I still don't understand. But as I walked home, mud-caked, embarrassed, eager to take a shower, the twins continued squabbling and I didn't stop them.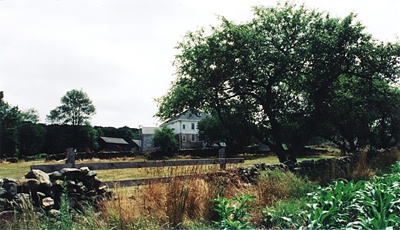 © Elizabeth B., Norwich, CT