So I Walk...
May 26, 2017
So I Walk...

A late afternoon, and the sun has begun to set. Time to myself and time to clear my mind is exactly the therapy I need. So I walk…

I leave my driveway and I begin to set off on the path up ahead and God whispers in my ear that He is with me. So I walk…

A squirrel runs across the street in front of me and a bunny dashes behind groups of bushes. The birds are having conversations in the tress above me. So I walk…

A peace settles over me as I spend time talking to God and hearing from Him too. I talk to Him about everything that had been going on. I lay it all down at His feet. It lightens me and I am given His overwhelming strength. So I walk…

I think about my sweet girl and all that she means to me. I think about her unconditional love and her beautiful outlook on life. I think about how happy she was and I think about how brave she was. As I reminisce about her short life and how well she lived it, I look at the nature that is surrounding me and feel the peace once again come over me. So I walk…

Her sweet face comes to mind and I can't help but smile because of how beautiful she was. I'm reminded of our play dates and our many laughs together. As I think about all of this, tears start to creep up. But they are not of sadness, they are of happiness over the sweet memories that I hold. So I walk…

As I look at the pretty colors of the sunset, pink orange, yellow, I am reminded of God's beauty and grace and everlasting love. It reminds me that I am never alone and there is good in all things. So I walk…

I see my home getting closer and realize that my walk is coming to an end. But I will hold close to my heart the time I spent with God. His beauty and strength and sweet presence fills me up. He washes away the sadness and guilt and pain. I am blessed to have a God that love me so much and being able to feel His presence leaves me with a peace that no one else can fill. So I walk.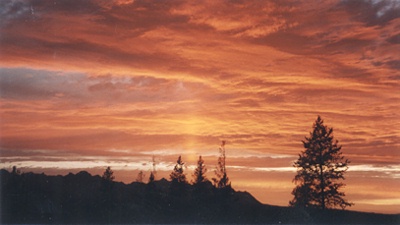 © Katy B., Challis, ID