DEAMON'S SQAUDRON SCRIPT
April 21, 2016
EXT. UNKNOWN LOCATION OUTSIDE OF RUSSIA - NIGHT

Indistinct conversations inside of building. 4 men outfitted with military clothing lean against the wall of the building.

MAN 1
(Whispers discreetly)
"Arsenal get over the wall and take out the guards on the roof.

The man named Arsenal pulls out two knives and sticks them into the side of the building and proceeds to climb up the wall.

Voices of pain in background.

ARSENAL
(Over radio)
"All clear Nuke."

Arsenal tosses down rope for the other men to climb up onto the roof of the building. The other men climb up the ropes to the roof.

MAN 2
"Cleanup on aisle 3,4,5,and 6 Arsenal made a big mess here."

ARSENAL
(In response to MAN 2)
"Ha-ha too bad you weren't one of the guards Snipes then we would be free from all of your cheesy jokes.

SNIPES
(In response to ARSENAL)
"Thank goodness."

ARSENAL
(Speaking in intimidating tone)
"It can still be arranged."

All 4 of the men pulled out M4A1 assault rifles. Then Arsenal pulls out a flash bang grenade and tosses it through the glass ceiling of the roof.

Shattering glass and a loud bang fills the room below the screen goes white. Gunshots go off non-stop.

ARSENAL
"Watch your six."

The shooting ceases.

NUKE
(Directed to everyone.)
"Search the bodies, and all rooms for the plans.

The group of men search the bodies of the dead and the rooms for plans for a nuclear missile.

SNIPES
"Hey, the plans aren't here."

Nuke flips over a table in reaction to the response he was given.

NUKE
(Over radio)
"Titan-56 this Demon-actual  need evac to base."

>>INT. DEMON BASE LOCATION CLASSIFIED, DEBRIFING ROOM-DAY

The debriefing room is silent, because of the result of the mission. Snipes is spinning around in a chair.

SNIPES
(Directed to everyone)
"So we killed all those guys for nothing. I say that mission was a waste of bullets."

Everyone in the room just stares at Snipes.
A uniformed commander comes into the briefing room

COMMANDER
"Attention!"

All the men stare at the commander

Group
(In unison)
"Hey Zach."

Zach moves to the front of the room.
ZACH
"Nuke mission report and please tell me it was a success."

NUKE
(In response to Zach)
"Well good news is we took out 4 commanders of the Russian terrorist group. Bad news is the plans weren't there."

Zach drops his head in disappointment.

ZACH
(Disappointed tone)
"Nuke this is your 5th unsuccessful mission in a row leading Demon Squadron. I think Arsenal should go back to leading the Demons."

NUKE
(Shocked tone)
"Zach come on. I know I'm rusty but…

ZACH
(After cutting Nuke off.)
"Nuke you're one of the best soldiers I know but you're a dad take some time off and spend it with Connor and Maddie. I heard that they had gotten into so trouble since you've been away.

>>INT. THE SMITH'S HOME LIVING ROOM-DAY
A streak of lighting runs around the living room in circles while a 16-year-old girl throws tactical knives at the lightning.

Woman 1
(Yelling)
Connor Alex Smith you better stop super speeding around my living room before I tape your legs together and hang you upside down from the tree. Maddie quit trying to throw knives at your brother like that you're never gonna hit him if throw them at him. You have to throw them in front of him like this.

The woman aims a throwing knife several feet in front of Connor and throws it right before he gets to where she is aiming. The knife flies through the air and hits Connor in his leg.

CONNOR
(In pain)
"Owww. Mom why did you hit me in the knee it hurts like a bi…"

HALEY
"Don't you dare finish that word. And your 15 you've been shot stabbed broke all your bones, fell from a 7 story building, and been almost beaten to death by Riggs, a knife in the knee for you that should be nothing. Besides you heal fast."

The door swings open Nuke walks in through door into the living room. Nuke standing in the living room for a while
NUKE
"So is anybody gonna say hi."
Haley walks from the kitchen over to Nuke and gives him hug
HALEY
"Hey honey how was your trip to Russia?"
Nuke has a disappointed expression on his face
NUKE
(Nervous tone)
"It went good...so what did I miss."
HALEY
(Exhausted tone)
"Well Maddie and Connor got into a fight again this week"
MADDIE
"These guys were picking on Connor and one of them shoved him into the wall so I ran over to them and slammed them into the concrete. Then these 5 other guys came over and tried to jump us so Connor and I destroyed them."
HALEY
(exhausted tone)
"Kids what have i told you about fighting at school?"
MADDIE AND CONNOR
(In unison)
"Don't get caught"

Nuke walks over to chair in the living room and sits down
HALEY
"Oh Nuke before I forget... I invited Alex,Danny and Gunner to dinner tonight."
3 hours later
>>EXT. BACK PORCH OF SMITH'S HOUSE-NIGHT
Doorbell rings
CONNOR
"I got it."
Connor super speeds to the front door and opens the front door to see Arsenal,Snipes, and Gunner.
GUNNER
"Connor how you been?"
CONNOR
"I've been good."
GUNNER
"I've got something for ya."
Gunner pulls out a MAC 10 UZI and hands it to Connor.
CONNOR
(Excited tone)
"No way I've been trying to find one of these forever."
SNIPES
"I smell Haley's famous lasagna."
Snipes walks in through the door with being invited in,Haley then teleports in front of Snipes and punches him in the face.
GUNNER
"Snipes you should know not to walk in here without permission and not expect get laid out."
Gunner yanks Snipes up by his shirt and sets him down on his feet, then Gunner smacks Snipes on the back of the head.
MADDIE
(Excited tone)
"Uncle Alex!"
Maddie runs towards Arsenal(Alex)and gives him a hug.
ARSENAL
"Hey there squirt. How you been?"


MADDIE
                                "I'm Doing Good, Missed You"


SNIPES
"What about me?"
MADDIE
"Yea missed you too but not your jokes."
    

HALEY
"Dinner is ready let's ea….."
An explosion blows a hole into the side of the wall leading to the backyard knocking everyone off their feet.
UNKNOWN
"Move move move."
ARSENAL
(In pain)
"Is everyone alright?"
Arsenal pulls a piece of wood out of his stomach, and stands up helping Maddie up
UNKNOWN MAN 2
"Don't move."
Arsenal looks over to Nuke who looks over to Haley, all nod their head at each other.
ARSENAL
(Directed to everyone)
"NOW!"
TO BE CONTINUED.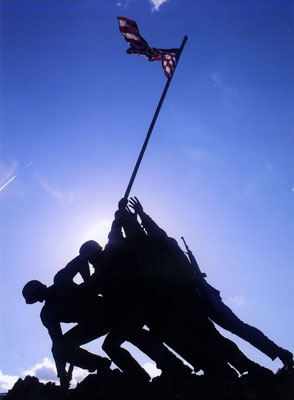 © James M., Glendale, AZ