The Fox and the Rabbit: Beijing Mayhem
September 3, 2012
One day, Rabbit was in his room quietly reading Harry Porkchop and the Goblet of Wine. Then he heard a knock at his door. It was Fox. "Hello Rabbit. We are going to China for a business I am working with. This is not an entire vacation so your babysitter CoaCoa is going to babysit you while I'm at work." said Fox with a smile on his face. "Why does it have to be CoaCoa? Why couldn't Rex or Nina come?" Rabbit asked. "Well Rex couldn't come because he has to take care of his son Jason and we only have three tickets and those were the last tickets on the flight so one of them would have been left behind and Nina is afraid of heights and CoaCoa was the only person that was willing to come with us on the trip. You should be happy that she is coming. If she didn't come, you wouldn't be able to come." Fox said. "Okay."Rabbit said. Rabbit then went to his room to start packing for the trip.
He put many of his favorite shirts in his suitcase and decided to put his camera, some of his favorite puzzles, and some toasted bread into his knapsack. Then he put his suitcase near the front door so that he wouldn't leave it at home.
The next day they left for the airport and when they got there, they met with CoaCoa and a panda named Pai Shang So. "Pai Shang So, this is Rabbit and CoaCoa. Everyone meet Pai Shang So." Fox said with a grin. "Hello." Pai Shang So said with a grin. "I'd like to give you this, young rabbit." he said while putting a pin on his shirt. It had an airplane on it. "As for you beautiful, young dog, I will give you this." He said and gave her 500 yen. Then they went inside to board the plane. When they got to the kiosk before they left for the plane, they presented their passports and the man at the kiosk stamped their passports with Chinese in glowing red ink. Then they took their luggage into the plane and the plane flew away soaring over many buildings.
Rabbit knew that this will take a long time so Rabbit decided to take a nap. So he snuggled up into a little ball and went to sleep. Then Fox started shaking him to wake him up after five hours of sleep. "Rabbit, we are about to see the temple of the sages. That means that we are at Beijing." Fox said cheeringly. Rabbit stared in awe as they flew past the temple of the sages. This building was like no other. The temple was a giant pagoda with pink tiling on the ceiling for shingles. It also had a big brass door.
Then the airplane started to submerge from the sky and landed at the airport. "Welcome to Beijing. Please move slowly toward the center aisle." The intercom said. Everyone did as it said and slowly walked toward the entrance of the plane and received their luggage. Then Rabbit walked to Fox, CoaCoa, and Pai Shang So. "Well I am pretty hungry after that long ride. Who wants to go out to eat for lunch?" Fox asked with curiosity. They all knew which restaurant they were going to go to: Panda Express.
They went to the Panda Express at the airport so they won't waste time. When they got there, the menu was very different.
Orange Chicken
5 yen
Stir Fry
7 yen
Fortune cookies
3 for 1 yen
Fish and Rice
14 yen
Then Pai Shang So asked everyone what they wanted. Fox said he wanted a Fish and Rice. Rabbit wanted a Stir Fry. CoaCoa wanted an Orange Chicken. Pai Shang So got them all one fortune cookie. Then Pai Shang So checked his wallet and only had $30 animalican dollars. Then he looked at Rabbit. Then he asked Rabbit, "If 1 yen equals two animalican dollars, would I have enough to pay for this meal." Rabbit replied with a no and explained why. Then CoaCoa decided to pay for the meal with the 500 yen she received from Pai Shang So. After they finished eating, they went to check in at their hotel and get settled.
Then Fox said some rules, "You are able to have room service but only two times a day. You can have two hours of television and then you have to read for two hours. You must be with CoaCoa at all times. If not you will be severely punished. Do you understand?" Fox asked with a stern look on her face. "Yes sir." Rabbit replied glumly. Coincidence or not every time Fox says that, the baby sitter that is watching Rabbit gets kidnapped by the person Fox works with at the time. As Fox walked out the door, he knew that this will be another crazy vacation. When the door closed his cell phone started to ring. He decided to answer the phone even though he did not know who it was but when he answered the phone, he could tell who it was by the squeaky voice. It was Arfy. "Hello Arfy, how are you?" asked Rabbit. "I'm bored right now. What are you doing? I didn't see you at school on the first day." Arfy asked politely. "I'm going to school in Beijing while my father, Mr. Fox, is at work there. We'll be here for about a month before we head back to Animalica." Rabbit answered. "Wow, you are in Beijing? Who's your babysitter?" Arfy asked. "CoaCoa is my babysitter." Rabbit replied. "Wow, she is mean. One day she never let me do anything fun for an entire day," Arfy said, "I got to go to sleep. Bye." he hung up. After that conversation, he thought he would not have any fun at this vacation. He stared at CoaCoa eerily. She was talking to someone on her cell phone. She did not seem mean. He decided to ignore Arfy and give her a chance. Then he started to watch TV. The Power Pups came on. "Oh, that's my favorite show." CoaCoa said excitedly. "Who is your favorite character?" Rabbit asked with curiosity. "Oh, it's ButterPup."CoaCoa said. "Wow, mine too." Rabbit said. "Well, this hotel is nice and all, but I want to explore China. Want to come with me?" asked CoaCoa. "Yes I would love to come."Rabbit replied with a large grin. He realized that Arfy was wrong and if everything went well, then he will have a fun time on this trip.
"Hey Rabbit, that was fun."CoaCoa said with a grin on her face. They just exited a museum about China's history. "Yeah, that was fun. I never knew that was why they built the Great Wall of China."Rabbit replied. "Hey Rabbit, it is very hot. You want to get some ice cream?" CoaCoa asked. "Yes, please."Rabbit replied. "Okay, you just stay right here, and I will get the ice cream from the ice cream cart."CoaCoa said. Rabbit nodded his head as he sat down on the bench. He started to really like CoaCoa. She allowed him to have fun and did not have to get into trouble to have fun. Suddenly, Rabbit heard a large shout. He turned around and saw someone running away with CoaCoa. His immediate reaction was to run to the hotel and start trying to find out who kidnapped CoaCoa. He has to find out fast before Fox finds out or he will get into a lot of trouble.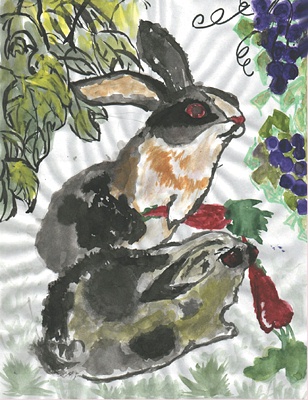 © Xin H., Elmont, NY