Street Reach
July 15, 2010
I knocked on the front door a few times. The white paint was chipped and the windows were dirty. The whole neighborhood was like this, unkempt and intimidating, but I was getting used to it. The heat, however, that would take a few more days. A few more days of walking with 3-year-olds on my shoulders, playing Frisbee with a few girls or kicking a soccer ball around with one of the Hispanic boys. The kids welcomed the heat, because it meant that they could actually be a kid. Something that many of them don't get to experience at home, where 8-year-olds are taking care of the littlest ones and children roam the streets in the middle of the night looking for their mother.
As soon as the kids heard the knock, they came running to the door, their excited laughter ringing through the halls. I smiled as Junior, the youngest of the bunch, not even 3 yet, led the pack. Since the first day I had picked him up, he had been ecstatic to go to Bible Club each morning. He was always happy as a clam. So, naturally, it wasn't him I was worried about. I knew that the kids who needed God the most right now were the ones with that faraway look in their eyes. The look that showed more pain than they should have to deal with in their young age. The quiet ones. Oscar, who was 6, fit that description perfectly.
"Hey boys," I said cheerfully, "are y'all ready to go to Bible Club today?" They nodded and started out the door. I picked up Junior and put him on my shoulders. I didn't want his little feet to get tired out before we reached the club site. Oscar walked beside me, quietly, as his brothers chatted away about nothing in particular. I heartily joined in their conversations, thankful that I could be someone they trusted and looked up to. But Oscar's silence worried me. I told myself I would try to talk to him once we got all the boys checked in at the site.
As we turned the corner onto Whittier Road, where our assigned Bible Club site was located, Junior asked to get off my shoulders. I let the boys run ahead to get signed in, but Oscar was still beside me. "Come on, Oscar." I took his small hand in mine. He looked up at me with his big, brown eyes and nodded. We walked over to where our staff member, Katie, was signing the boys in and making them nametags.
Katie looked up as Oscar sat down on the ground, patiently waiting for his nametag. "You're Oscar, right?" Oscar nodded again and I smiled at him. By the time we got the piece of tape bearing his name stuck on his chest, his brothers were all off playing. I worried that he would feel left out, but he walked over to the big Frisbee and picked it up.
"Do you want to play with that, Oscar?" I asked him.
"Yes," he replied. He wasn't smiling yet, but something in his eyes lit up at the prospect of tossing the Frisbee around.
"All right!" I cheered, always peppy. I ran farther out down the grass. Our lot was a side yard of an abandoned house. It was big enough, but I had to constantly dodge the 30-something kids who were all scampering around, playing various games. When I was halfway down the lot, I stopped. "You ready?" I yelled to Oscar, "then throw it!"
Oscar threw the Frisbee with astonishing grace. I caught it and quickly tossed it back, flinging it at just the right angle so that it would catch the wind and glide right to him. Finally, a smile appeared on his face, as he ran to catch the Frisbee and then throw it to me yet again. We went on like this for what seemed like hours, the hot sun beating down on our skin. Kids and my fellow youth group members were all talking, laughing, and playing with all the different toys, but Oscar and I only had eyes for our game. He would giggle when I made an overdramatic catch or when I dropped it.
I was so relieved to see him happy.
"All right y'all, time to circle up!" yelled Katie. I put the Frisbee down and ran over to Oscar so I could be with him while we sang silly songs and went over the rules. That pained look that had been in his eyes had temporarily vanished, and he seemed more like a 6-year-old than he ever had before.
After I led the songs (that was my role in the Bible Club) I was lost in my thoughts about Oscar, his brothers, and the rest of the kids as Katie was instructing everybody for the day. Suddenly, I felt a tug on my shirt. I looked down and Oscar was pointing to the Bible story tent.
"Are the 6, 7, and 8-year-olds going to Bible stories?" I asked him, wishing I had paid attention to Katie's shouts. Oscar nodded. He walked over to the tent, looking back periodically to make sure I was still behind him. I gave him a reassuring smile. There was nothing that would keep me away from Oscar right now.
"Our scripture today comes from Luke 10:27," said Chelsea, a sweet friend of mine who was in charge of Bible stories, "it says, 'Love the Lord your God with all your heart and with all your soul and with all your strength and with all your mind.' That's what we're talking about today, loving God." The kids were all quietly listening, sometimes being distracted by whatever games was doing. Chelsea's story today was pretty short, a parable, actually. The theme was more important, and I was watching Oscar to see if he understood. Surprisingly, he looked sad. The faraway look in his eyes had returned, and I couldn't figure out why.
Oscar was like that the rest of the morning, quiet and reserved. Even when we went to games, which I even thought were really fun, he didn't laugh or say anything. When the lunch truck arrived, I helped him unwrap everything and he ate in silence. I decided to ask him what was wrong while I was taking him home, not now in front of everybody.
"Hey, Wyatt," I called to Chelsea's older brother, who was my age, "do you want to help me take the Pantojas home?" I wanted to make sure I got a chance to confront Oscar.
"Sure! Come on, Junior," Wyatt said as he put Junior up on his shoulders. This little ones, heck, even some of the 8 and 9-year-old, always wanted to get up on your shoulders. I smiled at him, then turned to Oscar.
"You ready to go home?"
"Yes," he replied quietly. I walked beside him as we started making the trek down to his street.
"So," I started, "what did you learn today?" I usually asked the kids what their favorite part of the day was, but I wanted to see what he thought of the story. He didn't say anything. "Did you like the Bible story? Oscar?" I prompted, not planning on letting this go.
He paused, and looked up at me. "Does Jesus really love me?" he asked solemnly. Tears were welling up in his eyes.
"Of—of course He does! Jesus loves you so much that He died on the cross, so that even when you make mistakes, you still get to go to heaven," I told him earnestly. He looked confused, and then continued walking. "Oscar," I caught up with him and kneeled down so that we would be eye to eye on this, "what's wrong?"
"Nobody loves me," said Oscar, after a few moments of tense silence. My stomach dropped and my eyes popped open wide.
"No, Jesus loves—"
"At home," he said simply.
I hesitated. "What about your mom?"
"She makes me sleep outside."
Now tears were welling up in my eyes as well.
"Oscar, you listen to me," I said, wanting to make an impression on him. "There will always be mean people in your life, people who treat you unfairly. Sometimes, it's your own family," I choked on this a little, "But what you have to know is that things will get better. God is always watching you and protecting you, He's always listening to you, and He always, always loves you. No matter what. Sometimes, things are hard. But He is leading you to something better." Oscar was looking at me intently, letting the tears flow now. "And you know what, Oscar?" I asked him, quietly, "I love you, too."
Oscar nodded. I stood up and took his hand as we walked back to his house. I didn't know if I had handled the situation correctly. It was absolutely horrible that his mom was cruel to him and his brothers. They were all such wonderful boys. He needed to know that he was loved. I just hoped that my point came across to him.
"Bye boys!" I shouted as I opened the front gate and let them head inside, "Goodbye, Oscar, see you tomorrow." He waved goodbye and then shut the door.
If there was anything I learned about my week in Memphis, TN, running a Bible Club for kids who lived in a dangerous area, it was about love. The people I know at home, including myself, worry about materialistic things. We want the new iPod, we don't get enough allowance, our room is on the wrong side of the house. These children in Memphis, they have nothing. But with nothing, they appreciate everything, and they only want one thing. The one most important thing in the world.
They want love.
The next day, when I knocked on the door of the Pantojas' house, Oscar immediately flung the door wide open. I could tell by the light in his eyes that he had really taken what I had said to heart. He ran into my arms and gave me a huge hug; the first time I had ever seen him show affection to anyone. "Jesus does love me!" he exclaimed, with a huge smile on his face.
Yes He does.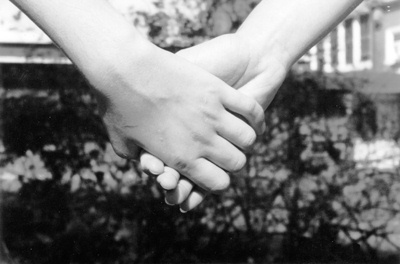 © Lauren G. Pompton Plains, NJ