White Walls
March 15, 2010
"If you stare into the Abyss long enough the Abyss stares back at you."
- Friedrich Nietzsche

These white walls surrounding me have been the primary source of my agony ever since the first moment I stepped foot in here. Blank, severely lacking any sort of color or any sort of emotion, these walls seemingly have me pinned into a white abyss and all I can do these days is stare deep into it. There are no furnishings or anything else that could act, even remotely, as a monument to the Earth I seem to have left. Time is a distant thought, and seems to have been irrevocably lost upon entering this horrid chasm that distances me from all forms of reality. I don't remember how long I've been in here, all I know is the dreadful toll being in here has taken on me both physically and mentally.

I am in here most of the 'time' in isolation, and the only thing that I have with me is my thoughts. I have realized upon my experience of this, that to leave a man alone with his thoughts is to drive him mad. A lesser man may have lost whatever sparks of sanity that the abyss has left him, but not me. I kept those sparks and kindled a fire with, as a way to make a shining beacon through this unparalleled madness. I have found a certain solace in my thoughts, the driving force of my stand against giving all to the abyss. I spend most of my 'time' with my back propped up against one of the walls and legs out in front of my body, all but perfectly still, and stare into the void opposite of me. There isn't much else to do here. When I am not alone however, a light will shine, and a gap will act as a reprieve from the void and a man will enter.

It's always the same man, short, stocky, and bald. His beady black eyes seem to be in conflict with every other aspect of the abyss. I dislike looking into his eyes. He always wears a white uniform, with the shoes to match. He comes in with 'food' and pills they say I need on a silver cart. I hate it when he opens his mouth to speak, for I have grown rather accustomed to the scarcity of silence in this void. The man's voice is deep, and scratchy and often he tries to elicit a verbal response from me with it. I haven't ever talked to him. Sometimes with this man, another one will follow closely behind him. He's taller than the black eyed man, and far leaner. He has scraggly black hair and, a pair of deep, empty grey eyes. They seem to gaze into to ever-endlessly into a distance, into an abyss. He wears a similar white uniform but makes no attempts to converse with me or the other man. I like this man.

Recently the pair walked in like they occasionally do. A gap opened up across from me, and I stopped looking into the void. My eyes fixed upon the hole while they walked in the usual fashion.

"Good afternoon Jonathon," came the deep scratchy voice of the blacked eyed man. "How are you feeling today?"

As usual I made no effort to communicate with this man, and focused on the other. I looked into his grey eyes and often pondered if he understood the means of this abyss, if by chance he too has experienced aguish by it's clutches.

"No response as usual," black eyes muttered to himself. "Time to eat." He said more audibly.

I don't know why but this time I decided to make an effort to communicate with the grey eyed man. I ignored the food; the other had placed in front of me, and made eye contact with grey eyes. It's been a while since I made any sort of attempt at communication but I thought that it was (or at least used to be) a custom to make eye contact to the person you wish to converse with.

"Can you see it?" I asked while still peering into his grey eyes, reference to the abyss. My own voice surprised me as it escaped my lips and moments of silence ticked by while I received no answer.

"Can I see what Jon?" Black eyes asked, looking stupidly confused.

"Not you! Him!" I spat angrily at him as a scrambled to my feet to approach grey eyes, mesmerized by his stare. This man had not even acknowledged that I had spoken, or even existed. He gazes into it even now!

"You've seen it haven't you?" I asked curiosity swelling in my breast.

"Who are you talking to Jon?" Black eyes asked, while scribbling notes on his pad.

"The man you walked in with!" I yelled back at him. What a foolish question for him to ask! Cleary I was attempting to converse with his acquaintance.

"Jon I didn't walk in with anybody," he said quietly, I could see the disappointment on his countenance.
"Fool!" I exclaimed, "He's right here in front of me!" I moved to reach out and touch grey eyes to prove him real when I came to the startling realization that my arms were bound. I gazed down and saw that it was a white straight jacket, blending with the abyss. When I looked back up the two men were taking their leave.

"He follows you now," I screamed at the top of my lungs, "Look!"

Neither of the two men looked back, and they shut the gap leaving me once again sealed in the abyss alone and isolated, with the thought of two vacant grey eyes marring my thoughts, and helping to dwindle the last thoughts of sanity I have left.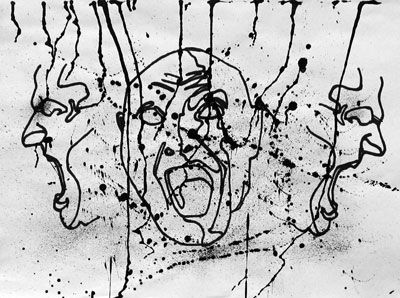 © Luke S., Montclair, NJ