Princess Dynamo
MAG
I grew up in the city. And all I know is the city, this city, my city. My city, with its lights and hassles and people and faces and buildings. My whole universe is this city. As far as I know, once you get on the interstate, there could be absolutely nothing else beyond the horizon. The horizon could be a sham. The world could be a sham! And there might not be a real exit. All of these buildings and people and lights, it could be that this is all that exists in the world. From my point of view, my limited perspective, the entire world could just be this huge ball of skyscrapers and buildings and stubbly little trees growing out of holes in the pavement. I've heard stories of cows grazing instead of steaming from beneath a sesame-seed bun. Of mountains and clean rivers and lakes that were put in the ground by God, not construction workers and machines. Stories of the sky meeting the ground with nothing in the way; stories of things I've only seen in photographs. These could all be myths, legends, fables, as far as I can tell.

I only know the city.

Me, with my city-girl looks and city-girl accent and my polish-painted red fingernails and my name-brand tennis shoes. My flashy clothes and lipstick and mascara and my city-girl name. My city-girl face. My city-girl life. My city that I love, my life that I love, but I'm ready for something else.

My name, my city-girl name, isn't real anymore. I used to have a proper name, one that wasn't scrawled across bathroom walls in subway stations. I used to have a decent name but I've forgotten it because now I only go by Princess Dynamo.

And that is who I am.

Me, Princess Dynamo, in my bright layers of clothes and my strappy, sparkly shoes and my clangy jingly jewelry and my hair tied up tight and fancy. I'm always under the same haze of make-up that every city girl wears and I have that same fancy-poo city-girl attitude. That is me, Princess Dynamo, and that is who I am.

Me, me, me, all me, all the time. Driving out to my fancy city-girl parties and drinking drinks mixed by bar studs who only flirt with you because they want an extra tip. I know these games they play because I know this town. I know this city. It is safe to say that I am jaded. It's also safe to say that I am bored. And tired. And this city with all of its hum and whir and machine-like atmosphere, with its innumerable faces and feet, I'm bored with it and I've grown to hate it and I want out, out, out. Out the back door to find something new.

After a million hours, and something like 20-plus years of this place, I am leaving. For good? Dunno. Where to? Not sure. But I know what I want, and it's not this place. It's no longer the world I've grown up in and known like a girl knows the shoes in her closet.

I am leaving tonight, in the light of the streets. I will climb into my little brown hatchback to find a place where the stars shine and float all night long. A place that doesn't smell of so much car exhaust and human life and concrete. I am going to sleep under the stars and I will drive and drive and drive until I get there. Until I'm so far away from civilization that I have to pee in the bushes. Where the air is better and where I am alone. Alone on my own, by my lonesome. Alone for miles. Because being alone in your apartment isn't ever really alone. Your little bubble of your You Universe only extends to the next person. And in this town, there's always someone near by. And I want to be alone. Really. And I want to look up at the stars and feel so far away and so, so, so alone. Lost-in-space alone. I want my Me Universe to extend for ages and hours and miles.

And so I drive for hours and hours until there's a swerve to an off side of the road at sunrise and I curl up in the backseat like a cat and doze until the moon comes up. I only drive at night. I need that security, that anonymity that comes with darkness. I pull off at a self-serve, cracker-jack food store to buy cappuccino and bagels, city-girl food. I squirrel away snacks, anything that will last, little plastic-wrapped cakes with cream filling and lunch-box size bags of chips and pretzels. I throw wrappers in the empty passenger seat. I drive and drive and my eyes cross and feel dry. I smell and I'm dirty and greasy and every morning at dawn I pull off the road and sleep like a cramped little kitten in the back seat. A cramped, smelly girl in strappy gold high heels and chipped red nail varnish and smeary red lipstick. And my denim dream-girl pants are too tight and squeeze me when I move.

This is me, beautiful me, with all the city removed. Princess Dynamo without a sink to wash her face in, without a bed to invite a man to, without a shower to wash away her sins. And I don't know where I'm going, but I'm waiting for all of the bloody signs to disappear and for the cars to drop off into the horizon and for all the little petrol stops to stop appearing every quarter mile.

Days turn into more days and there's a split somewhere along the way and I can't decide which way I should split. I don't have a map. I don't know where I am. I'm scared so I just go forward and follow all the other cars. Right now, tonight, this night on the road that is just like last night, I'm cursing the stars and hitting my dashboard and screaming, "This had better be worth it!" And I miss the city and the buildings and all of the buzz and hum and whir. I mumble curses and scream along with the radio, even the tunes I don't know. I have to let the air out of my lungs and feel the breeze between my ears.

A fragment of my city life is stuffed behind me in the back seat and in the tight little trunk. My city-girl designer shoes and sneakers and denim dream-girl blue jeans. My squirreled-away snacks and my tapes and my money and my life. What little I decided to bring. As far as I can tell, I have no life in the city anymore. I am gone, an outcast, and it's all my fault.

I don't sleep anymore. I drive all the time, day and night, and I only pull over to buy more cappuccino and little bags of chips and pretzels. And to pee.

And there are always roads leading to places where I don't know where they are, but I'm always too afraid to turn to the left or right. Down these roads there aren't any signs and there aren't any cars but I'm always too scared. Here I am, Princess Dynamo, in my little brown hatchback, a 20-plus girl who cast herself out of the city. What am I to do? Where am I to go? What am I so afraid of? If it's the wrong way, can't I just turn around and get back on the long, long straight road to God-knows-where? Can't I leave bread crumbs? There's no one here to judge me. I am alone in my little Me Universe, my bubble of Princess Dynamo in my brown vehicle of doom. Then I decide.

And I take the exit.

I exhale.

And the world is different on this road. And I turn down the radio and listen to the hum of the road flowing river-like under my little brown hatchback. The farther I drive, the more my Me Universe bubble grows. And it grows and it swells and it stretches until the sun falls down out of the sky. Without any noises. Without any thud.

It drips white into gold into mandarin orange. It drips slowly into vermilion hues and then purples and into a big sweeping blanket of deep dark enveloping blue. The kind of blue that people get sucked into. The familiar blue, so blue and purple and black, it seeps all over the Earth after the sun melts away into oblivion and memory.

I pull over with my Me Universe bubble busting out all around me in every direction. The air is so still and solid that it bleeds all over me, into my skin and lungs and every pore and opening and rinses away the road. The grass on the flat land beside the road is gray-blue and it extends outward into forever. I feel the grass creeping up and tickling the bare parts of my feet, the parts that show through all the strappy gold bits.

With the sun gone down, I sense the stars above playing and dancing and twinkling and having a flighty little star ball that humans aren't invited to. Big, doe-eyed Princess Dynamo me, I can't pull my blue, blue, contact-blue eyes away from it all. I slump against the car and listen to the night things. The air is thick like a summer afternoon, but not stuffy, just so, so obvious. It blankets me, heavy and warm and comfortable like I've never felt before. It cools when the breeze comes and the grasslands shudder like two thousand lazy, sleeping beasts all piled together in a field. I lay for ages and ages completely alone and fully aware. The stars above, the grass below, and me shoved content in the middle. Far out beyond me the sky is kissing the ground and the ground is kissing the sky back in a beautiful, romantic embrace that no person could ever really see without getting green jealous.

And oh, yes, it was all so worth it in a million different ways. Every second I pull into memory and body and mind and every second is worth so many different words. I stay until the sky bleeds orangy into the blue of stiff night. I stay until the moon turns to dust with the day and seeps back into space. I sleep with the day and when I awake in the late afternoon, I head back toward my straight, long, unending road. A road long and powerful like the Nile. I drive forward to days and more days of road slipping quickly underneath my little brown hatchback. I drive onward, backward, forward even, to the city that was, at one point, all I ever knew.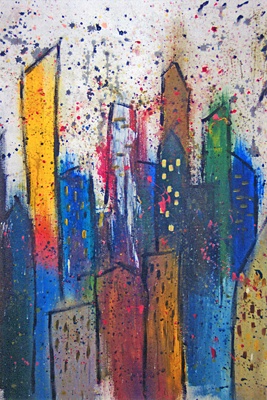 © Chase C., Centerville, OH