Crimson Lotus
January 18, 2011
Shi
I approached the Southeastern Capital City Lasamia, a city full of powerful Enchanters who have filled the land with great amounts of power, only to be greeted with surprised looks and panicking eyes. This only made me grin. I could tell I wasn't welcome, which would only make this much more fun. I could feel the power seeping from the ground. It made my claws tingle. This will be quite enjoyable; my power being fueled by their fear, but the only thing that could put my power to its peak is the fury, the anger of a certain foe.
Guren.
---
Guren
I darted through the forest, hurrying to the southeastern border, where I felt a strong amount of dark energy had entered Lasamia. At first, I thought I could leave it alone, and let the Enchanters fend for themselves, considering there are very powerful Enchanters in the Southeastern Capital, but this power felt different and kept getting stronger every second.
My fur belt brushed against my wrists, as my fur boots collected twigs and leaves between its hairs. My long hair whipped back and forth, practically blinding me.
I glanced to the left and got a glimpse of elegant silver fur, and I knew it was Raza. There was no way I was letting her come. It would mean putting her in the way of danger, and I had no time to worry about that.
Turn back, I commanded her.
No, she barked back, there's no way I'm letting you go alone, not when you're this tense, anyway.
Fine, I sighed and rolled my eyes. Just don't get hurt.
Once we reached the border, I could hear everything. I could hear the screams and cries of innocent people, the blasts and beams of magic being executed, the growl of a beast-a large beast.
---
Shi
I destroyed everything, everything in sight, hoping to get her attention. Where was she? Was she afraid to see me? I growled and roared louder and louder, and she still didn't show up. Finally, I stood on my hind legs and howled, "GUREN!"
---
Guren
When I heard my name, I knew exactly who it was. Shi. I felt the frustration flow through my veins. I did not plan on fighting him, considering he is the sole cause of everything wrong with my life.
I wrapped my hair back in a ponytail, and Raza and I began dashing toward the Capital. I was more ready than ever, and noticed I was running faster than before. This time, I wasn't going to let him get away. He was going to die. Die for everything he did.
We approached the Capital's gate. There were no guards in hind sight, so I decided to get in on my own. I swiftly and easily climbed over the humongous gate, and opened it from the other side, to let Raza in. The gate was heavy, and creaked and screeched loudly. Raza walked in, and joined me at my side. I could tell she was just as alert as I was.
Right in front of us was none other than Shi. His giant muscled body cast a shadow on every building near him. His claws are as sharp and blood-stained as his bared teeth, which showed the biggest grin on his face. That meant that he was ready for a fight, and so was I.
---
Shi
Seeing her cause me to reminisce; Years of banishment in the Spirit Realm have finally come to an end. This will be the last time I see her smug expression, the last time I have to hear her laugh, the last time I will ever hear her say we are nothing alike, when we are so similar. I will obliterate her-end her!
The same way I ended her brother.
---
Guren
I can read your mind, you big lug. I said, as calmly as I could. The things he thought were utterly ridiculous. I see nothing similar about us. Right about now, I was ready to rip his head off.

I could so easily smell the blood that trickled down his sharp, canine teeth; sense the fury that ran through his entire body. Why he targeted me all these years I would never know. First, my parents disappear, and then my brother's death, and now he wanted me. It probably has something to do with my mother, and her past…

It doesn't matter now. My thoughts will be the last you hear, Guren! He raised one of his three tails, the rough black fur pointing straight, like needles. The force of his tails was stronger than that of a boulder, and his fur was sharper than swords, yet as a Beastlord, I can withstand it, unlike frail Raza, who started to growl.
I braced myself, and Raza began snarling. My feet dug into the solid earth, ready to block every attack he threw at me. I could tell he was aiming for me, but then he did the unthinkable.
He hit Raza.
---
Raza
The strike of his quick and accurate tail made me yelp and jerk back from the pain. I was fast enough to move so the attack wouldn't hit my heart. I was thrown on the ground, paralyzed from shock. The last thing I saw was Guren's flushed face and worried eyes. Then, mine closed, and I was too weak to open them again.
---
Guren
I dropped on my hands and knees, shivering. The anger flowed though my veins. I was going to kill him. I was going to let his blood soak on the ground, and watch his body rot.
What's the matter? Was this not according to your plan? He taunted me.
"Shut up!" I yelled out loud.
I don't think I heard you. Speak louder! He pulled his tail out of the ground, leaving a large crater. It was right above me now. I leaped out of the way, letting it slap back down to the ground. Now I was charging him. My hand was open like a claw, ready to attack his heart, but his second tail was waiting for me, and it slapped me sideways against a building. The force was strong enough to knock me out.
---
Raza
Once I got the strength to open my eyes again, I realized I was not on Earth. The only thing that surrounded me was emerald grass, and a babbling creek, covered in white lotuses. But I noticed one lotus was red, no, crimson, and that lotus was closing, while the other continued to bloom. That crimson lotus was Guren.
---
Guren
I needed to calm down, but it's usually Raza's job to help me stay calm, and I couldn't tell if she was dead or alive. I let my anger get to me, and now I was going to die, and let Shi get what he wanted. I saw Shi's loathsome grin, and it made me want to puke. I couldn't let him win that easily. I jumped back on my feet and began to charge him again. This time I dodged all the attacks from his tails, and went straight for his head. Again, he was ready for me. He grabbed me in his monstrous jaws and tossed me to the ground. Now, I couldn't move.
---
Raza
The crimson lotus was almost done closing, and I felt a tear trickle down my fur, and drip onto the ground. I was going to lose my only friend. Sorrow made my whole body go numb. This was the worst feeling in the world. I'd rather be dead than her. I only wished that the rich and soft soil would just pull me in.
---
Guren
There was nothing I could do now. I felt the anger leave me, and flow through him. He lives off my anger. Nothing could calm me down. I could only picture death, being as still as a stone with no feelings; only empty thoughts drowning me-only death.
Death. The thought of it made me begin to slow down. I began to feel myself become extremely tired. My limbs became weaker, until they were immobilized. My eyes fought to stay open; my twitching fingers began to relax. My vision blurred, my heart stopped racing, everything began to shut down, until I was really…..dead.
---
Shi
I watched her weak body lay on the ground, motionless. I could no longer hear her heartbeat. Her skin looked pale and worn out, the exact way a human looks when they're dead.
Victory.
"Yes! Guren's head is mine!" I continued to laugh at the ridiculous performance she showed! She's even easier to kill than her brother; that made me grin from ear to ear.
---
Raza
The crimson lotus had closed completely, and so did my heart. All was lost. There was nothing I could do. I would be lost in this fantasy forever, without escape. I will be left here to stare at the crimson lotus as it wilted.
---
Guren
No! My eyes shot open, and I charged him again, only faster than ever. I felt my entire body shoot through him faster than a bullet. I looked back and saw the gaping hole left in his giant body. His demonic aura was gone. I landed feet first on the ground, as he fell.
---
Raza
Just when I thought all hope was lost; the crimson lotus was blooming again, which made my eyes open in disbelief. She was alive. How was it possible? I didn't care. Guren was safe and alive.
Coming up the creek was a wilting black lotus. That could only mean one thing: Guren was alive, and Shi was destroyed, forever. The creek slowly disappeared, and I blinked twice, and found myself back on Earth.
---
Guren
Something flashed behind me, and I turned, ready to throw down again. Then, I realized, it was someone else. My brother.
He looked like an angel, dressed in the white clothes I had buried him in. His hair was a perfect snowy white. He looked almost alive, but I knew he was still dead.
He smiled, and began to walk toward me. I loosened my fist, and I knew the expression on my face said it all; I was in awe. I wanted so badly to embrace him and let tears rain from my eyes, but instead I stood there and just stared, while he stared back at me. I knew exactly what he was trying to tell me. He wanted me to let go. He wanted me to feel free from my anger, and to show me that he was alright. He left me with pain, and now he was apologizing for it.
Suddenly, his body began to illuminate brighter and brighter. The last thing I saw was his smile, and then he just disappeared into a flash of light. The only word that left my mouth was his name, "Lin."
I looked over my shoulder, and saw Raza began to limp toward me, her comforting eyes locked on mine. A wave of relief washed over me. I was so happy to see her alive and well. Losing her would be the end of me.
I lifted her up on my shoulders. "Let's go," I told her, reassuringly, as we walked away from the demolished city, and in the opposite direction of my brother.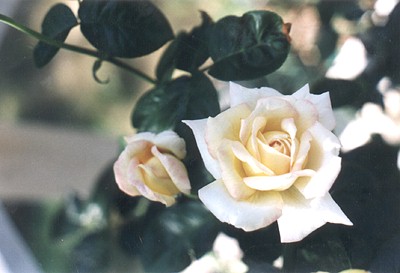 © Jacqueline S., Hanover, MA