Lid
February 20, 2009
She had me start by reading the twelve-page list of prospective card receivers. 'The Reverends Davis,' I shouted into her ear with a low-pitched voice. I noticed black hairs sprouting from her chin. Whiskers. Gravity caused the skin on her chin and neck to hang a rooster's wattles. 'Speak at a lower decibel level,' she reminded me, while fiddling with her hearing aid. She sat tall, her fingers contorted and thick as sausages folded neatly in her lap, waiting to correct my next mispronunciation. I read off strange names, A.B.C. Whipple and Mrs. Crosby Beady, to which she would respond, 'Dead,' or 'She didn't send me one last year, so cross her off the list.' After I updated 'The List' she gave me a tour of her house, proudly pointing out the 'Books by Friends' collection in her library; she told me I would be doing more with that next week. She led me up the stairs, eager to show me Bernie's room. Bernie turned out to be a cab driver living in her attic. She showed me her piano by the window, sat down, and began humming loudly, producing the occasional trill. A man had attempted to rob her the previous night and the neighbors thought he was living in her shed; she wanted me to check. I told her it was time for me to go home. She led me to her front door, disappointed, and spread her arms wide to say goodbye. I didn't want to hug her. I thought old ladies were supposed to be cute. Not Lid.
Sunday afternoon arrived too quickly. I considered not ringing her doorbell. She'd probably forget I was supposed to come, but I felt guilty so I pressed. She invited me in and offered me stale vanilla wafers and Tang. Her dog Mavis kept tailing me and licking my legs. I typed up the new list on her 1986 Macintosh Plus and put snowman address labels on the cards, if you could call a picture of a clear blue Jersey sky and a barn roof a Christmas card. The caption read, 'Happy Holidays! My house is undergoing construction!' When I finished, Lid had a new task for me: categorize each book in her library; shelve appropriately. I didn't understand the Dewey Decimal System.
I'm afraid of being useless, or trading in my independence for a First Alert necklace and a room at a home. At the Franklin Institute, my teacher made everyone see what we'd look like at age 75 using an age progressor machine. I pretended I had to go to the bathroom. When my Brownie Troop sang Christmas carols at a nursing home, I hid in the back row.
At age ninety-four, Lid is so full of life. I don't want to live my life fearing my birthday or wrinkles.
I didn't realize how much I meant to her. After I complete a simple task of finding the map of South Carolina in her map drawer, she squeals, and her whole face lights up. 'I would never have been able to do that without you,' she gushes. What she doesn't know is that I look forward to next week when I start addressing this year's Christmas cards.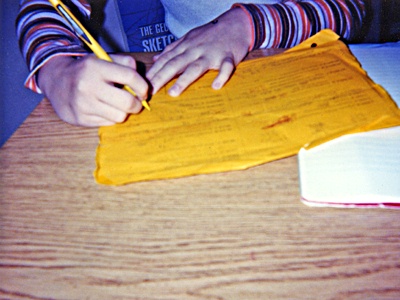 © April R., Highland Village, TX