Shampoo Aficionado
MAG
October 16, 2011
I am a four-sport varsity athlete, a climber of rigorous terrain, a poet of lyrical ingenuity, a frequent flier in the weight room, a meticulous hunter of wildlife, and a possessor of a full range of traits that safely categorize me as a "manly" man; this is what my peers know about me.

However, what most people do not know is that I have a guilty pleasure – one that is easier smelled than seen. I love shampoo. My passion goes far beyond wanting a clean scalp; I want the whole experience: the fragrance, the lather, the tousle. My flamboyant quest has led me past the norms of Old Spice or Head and Shoulders. Rather, I prefer the rare and exotic blends of strawberry ginseng, the mouthwatering effects of nourishing coconut milk, the luscious and haunting combination of wild violet and pomegranate, the succulence of pink lily and asian silk, the undeniable amalgamation of mandarin creme and pearl, and the audacious blend of lime and cucumber.

As a youngster, I amassed a comprehensive collection of baseball cards. Nowadays, my interests have taken a much more flowery turn. Over time I've gathered an array of no fewer than 20 bottles of shampoo. No joke. I keep them all safely tucked away on a shelf in my room. They are arranged by shape: tall bottles in back; short bottles up front. Clearly, I'm a window shopper. Recently, my mom came to help me move out of my room at school. Astonished by my collection, she inquired, "What are you doing with all this shampoo?" I logically explained that if a disaster were to occur – such as a flash flood, tornado, or any incident that could leave students stranded – I'd be the only one smelling good.

For me, "gee, your hair smells terrific," is more sentimental than a motto or an outdated shampoo brand from the '70s. Last year, I had the unfortunate circumstance of being kicked in the face while playing soccer. It resulted in a broken jaw, a massive concussion, bleeding on the brain and a med-flight helicopter ride. However, the situation brightened dramatically when a nurse complimented me on my enchanting fragrance. Even after a full day of school and a rigorous soccer match, my hair retained its appealing aroma. My pride had been maintained.

So what does all this shampoo say about me? Obviously, I'm a pretty clean guy and clearly a shampoo aficionado. But beyond that, when I'm into something, I'm really into it. I'm also not afraid to challenge the standards for a typical guy in terms of hygiene or fragrance. Eager to follow my curiosity, I have taken strolls through gardens of whipped vanilla, a frutopia of açai berries, and even a grove of gardenias. I'm never embarrassed when I receive a compliment about my hair feeling soft or smelling good. The way I see it, the perks are many: the sensation of silky hair after shampooing, the frequent comments from women about how nice I smell, the invigorating feeling of a scalp massage. In essence, this fascination with shampoo is a part of who I am, even if it makes me, well, a little different.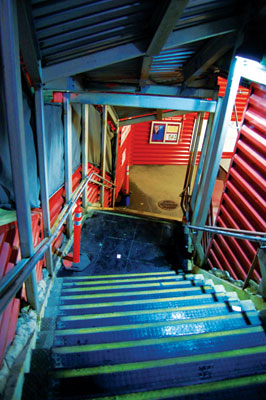 © Karen C., Holbrook, MA