Pinocchio: A Genre-Hybrid
January 26, 2019
The suppression of expression by the Grand Duke of Tuscany imposed a limitation for any comment disliked by the rulers. (Collodi, West, Eco and Brock, 1st page, before title) However, writing for children was a more relaxed, seemingly harmless avenue of influencing people as the government was not inclined to filter what the author would write. Carlo Lorenzini, writing under the pseudonym "Collodi," a volunteer in the Tuscan army, satirical journalist, author of novels, plays and political sketches authored the critically acclaimed and culturally iconic fairytale, The Adventures of Pinocchio in 1883. The protagonist, Pinocchio, portrayed as a wooden marionette prefers to play rather than work. The puppet goes on a journey to find a way to become human by choosing the right path. Initially, he believes that laziness is better than working for things but setting out to improve the life of him and his father Geppetto, he realizes that nothing can be achieved without hard work. Near the end, Pinocchio had transformed from a puppet to a boy. Like many authors before him, Collodi's literature told a cautionary tale that looked to set straight the apathetic ways of the people so that the country could achieve a sense of pride and harmony. As one of the most translated non-religious texts and reimagined characters in children's literature, the immortalization of the story has occurred by the various translations of the text, through books and movies. The novel continually portrays the virtues of work ethic and targets the sluggish actions of people. Using a combination of fantasy and reality captivating readers, both young and old, Collodi wrote a strange-classic-fairy-novel that will leave us all to ponder. Collodi blends a variety of fictional genres in the story including; bildungsroman, folklore and an imaginative at times ironic fairytale style that permeates throughout the novel.
Initially used between the late 19th and 20th century, Philologist Karl Morgenstern coined the term in the 1820s. The name is an amalgamation of "Bildung" the German word for education and "roman" novel. The genre focuses on the psychological and moral growth of the main character, usually a protagonist from youth. Considering Pinocchio's constant attempts to subdue childish miseries of hedonism, self-indulgence, and disrespect, unsurprisingly, The Adventures of Pinocchio is classified as a Bildungsroman novel. "Read as a type of Bildungsroman or fairy-tale novel of development, Pinocchio can be interpreted positively as a representation of how peasant boys, when given a chance, can assume responsibility for themselves and their families and become industrious members of society." (Zipes, Jack. Pinocchio, the Civilizing Process, and Home, Page 11). When proven worthy of adulthood, Pinocchio is transformed into a real boy, demonstrating Bildungsroman in a literal way. Carved out of an inorganic substance (wood), miraculously, the marionette becomes a boy who is responsible for the welfare of his pitiable father.
Though complicated the theme of education or development may be, Collodi initially had not planned to allow Pinocchio to develop; ending the story as a consequence at Chapter 15 resulting in the hanging of Pinocchio. "Yet, when this episode appeared in the November 10, 1881, issue of the newspaper with the "finale" printed at the end, there was such a storm of protest from the readers young and old that Collodi was forced to resume The Adventures of Pinocchio in the February 16, 1882, issue of the newspaper." (The Origin and Development of Bildungsroman). Decidedly, Collodi resumed the story after a push from the public to inspire young boys to change, like Pinocchio had been, to educate themselves and work properly to lead a bright life. "Killed by good actions, Pinocchio awakens as [in Collodi's words] "a boy like all others" …That casual phrase touches infantile dilemma: to accept both difference and uniqueness of self or to lose both. Pinocchio gives up his uniqueness as a puppet; as a human, he will have a name, but he will anonymous. As a puppet, he was deformed, lacking in some sense, but let us not forget that his "deformity" was also a condition of freedom." (Manganelli) (Collodi, West, Eco and Brock, Page 176). The story sought to prove that the people of Italy might have achieved a better life if they worked harder to make their life better. The Adventures of Pinocchio is not the beginning of an era of Bildungsroman but is a moreover identifiable coming-of-age story in the "children's literature canon."
After The Adventures of Pinocchio, many children's classics with the same story types, for example, "The Adventures of Huckleberry Finn", "The Catcher and the Rye", "To Kill a Mockingbird", and "The Outsiders". Stuck on the tongues of many adults as a reprimanding story for children, it is a must to behave in a specific way and obey parents or face the outcomes of the improper behaviour. It proves how thoroughly Pinocchio registered in Italian culture and morals: it was and is considered a bildungsroman, a novel explaining how a person's tender ages can commence a better perception of life and their place. The Adventures of Pinocchio is a good model for personal growth. Focused on their faults, and constant threats (death in The Adventures of Pinocchio is always present, Pinocchio himself risks dying and has to die to become a real boy), children are brought up via the model set up by stories themselves. Bildungsroman contains an idea of both dependence and independence on adults at points in life and the unique model for right behaviour. Consequently, if transcendent development is the principal theme of Pinocchio, it is one that the author ironically sought from the very beginning of the adventures, just as he examined the optimistic structure of the fairy tale. This questioning accounts for the tension of skepticism and optimism in the novel.
Collodi used The Adventures of Pinocchio as a fusion of genres, with one of them being used to emphasize his views and the views of his generation. Collodi blended different oral folk tales in The Adventures of Pinocchio pointing toward a civilizing and liberating concept of a hearth. The novel also challenges the manner in which we try to civilize the youth. Collodi, an earnest writer and political activist, intended his stories hold a mirror to society and comment on matters that prevailed in his time. By changing genres and turning the real-world upside down, he sought to dispute the social criteria of his experiences and to interrogate the understanding of boyhood. In his use of folklore, Collodi played with the lore of "Jack" tales, customarily dealing with a gullible, well-meaning child, who, although not too bright, manages to lead a charmed life, surviving all sorts of terrible encounters. At times, he becomes wealthy and triumphant at the end of the story. Mostly, he is appeased to return homeward safe.
In Italy, there are many articulated stories about blundering peasants, whose naïveté stays a blessing and self-contradictorily empowers them to surmount struggles, in adventure after adventure. The region in Tuscany where Collodi grew up had many stories about Florentines like told by Italo Calvino in Italian Folktales in which a naive Florentine feels like a fool because he has never been apart from Florence and has never had any events to recount. After travelling about, he is nearly slain when he encounters a savage giant. Fortunately, the boy escapes but suffers a lost finger. After returning to Florence, he is remedied of his urge to venture out of town. In all "Jack" tales, no matter the country or region of origin is the basic "goodness" of the protagonist, protecting him from evil forces, and teaching the character to learn to use his wits to trick the enemies who want to cheat or exploit him. The motif of the prominent nose was unmistakably appealing to Collodi, but it was not just the nose alone that made his narrative about Pinocchio so unique. Starting the story with "Once upon a time there was . . . 'A king!' my little readers will say at once. No, children, you're wrong. Once upon a time, there was a piece of wood! (Collodi, West, Eco and Brock, Page 3) Collodi never wrote solely for an audience of young readers. Collodi's work, specifically The Adventures of Pinocchio was intended to appeal to children and adults and to propose educating young boys, primarily, when teaching them was not a concern of unified Italy. The combination of the folklore and literary fairy-tale traditions to reflect upon the situation of illiterate, playful, poor boys during the latter half of the nineteenth century in Italy that makes his narrative so compelling.
At their height, fairy tales constitute the most thorough expression of the struggle of humans to create and sustain an edifying manner. Figuratively speaking, fairytales show the chances humans have to adapt in our situations and speculate on the conflicts emerging when we neglect to impress civilizing codes on people with the interest of the people in mind. The point that we cave to the depraved impulses within; the more treacherous and adverse we become. When understood that concerns of different people are related, universal principles composed guarantee cordial relationships. Fairy tales have an unnatural talent of telling dark truths without consequence for the writer. In an eldritch way, fairy tales convey the lacking skills of populations and the idea to counterpoise for that very lacking. The effectiveness of these tales depends on how the stories have been made meaningful for the recipients of the tale. All fairy tales teach a lesson that as misfits of this world, all must fit together, giving fairy tales extraordinary powers. By 1860, Carlo Lorenzini published his first notable work called Il signor Alberi ha ragione (Mr. Alberi Is Right) under the pseudonym Collodi, which outlined his political and cultural vision of Italy, not unlike his satirical newspaper Il Lampione (1853). Convinced that the unification of Italy was necessary, he realized that the social and physical change needed from all Italians would not occur.
When the Blue Fairy, the only maternal figure, sisterly figure and true friend Pinocchio has said, "Woe to anyone, who yields to idleness! Idleness is a dreadful disease and must be treated at once, starting in childhood. If not, it will be too late by the time we grow up". (Carlo Collodi, Pinocchio-92, Ch. 25), Pinocchio is influenced to bring about the change that the Blue Fairy is referring to. With their erring ways, Collodi shows that idling middle to lower class would have nothing to gain by choosing not to work. Tired with impressing his views on adults, Collodi pieced together a mastermind of a tale, that went uncensored through the Grand Duke due to it being a children's story yet managed to grab the attention of adult readers. This avenue decidedly convinced the adults, slowly but surely, that their circumstances could have been better and thus, they decided to move towards a more stable-income future.
Collodi mixes an assortment of anecdotal classifications in the story including; coming-of-age, folklore and a creative now and again amusing fantasy style that is present throughout the novel. Though a very dark story, the magic of a fairytale, lore and coming of age shines thoroughly, showing that even a piece of wood can transform into a boy, doing more than what he came from, not unlike Carlo Collodi's life. Both his parents came from a low-class of servants, yet he became a famous writer, part of high society known for his magical and influential works, as though by a miracle when indeed he worked hard for it, just like Pinocchio. The reason for having a dark but truthful storyline became a fairytale that, unbeknownst to the reader, teaches the harsh truths of life. Collodi's creation was not only significant in the times it was written, but even today his idea may be translated into everyone's daily life as an example and potential to work hard and plan for a better future.
Works Cited:
Avanzini, Alessandra. "Pinocchio: A Bildungsroman?". Annali.Unife.It, 2018, .Accessed 21 Dec 2018.
Collodi, Carlo, Umberto Eco, Geoffrey Brock, Rebecca West. The Adventures Of Pinocchio. New York Review Books, 2009.
"Essay-Pinocchio | It's Classic." "Hillary Ais 10". N.p., n.d. Web. 25 Dec. 2019.
Franz, Marie-Luise von. The Interpretation of Fairy Tales. Shambhala, 1996.
"Impact On History Of Children's Literature - The ..." "The Adventures of Pinocchio." N.p., n.d. Web. 25 Dec. 2018.
Lucas, Ann Lawson. "Pinocchio: Carlo Collodi." The Columbia Encyclopedia, 6th Ed, Encyclopedia, 2018.
Pesonen, Ari, and Petri Liukkonen. Authorscalendar/Collodi.html. Authors' Calendar,
"Pinocchio: Fairy Tale, Folklore, And Myth | Tracymarrs." "Tracy Marrs." N.p., n.d. Web. 30 Dec. 2018.
"The Persistent Puppet: Pinocchio's Heirs In Contemporary ..." The University of Chicago LibraryÈ. N.p., n.d. Web. 25 Dec. 2018.
Zipes, Jack. (1996). Towards a Theory of the Fairy-Tale Film: The Case of Pinocchio. The Lion and the Unicorn. 20. 1-24. 10.1353/uni.1996.0004.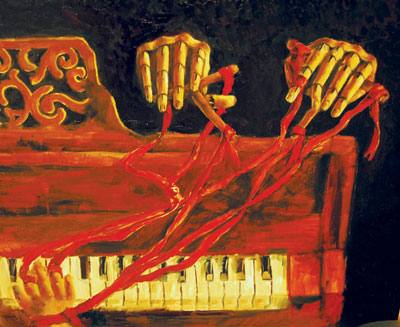 © Bonnie S., Fremont, CA